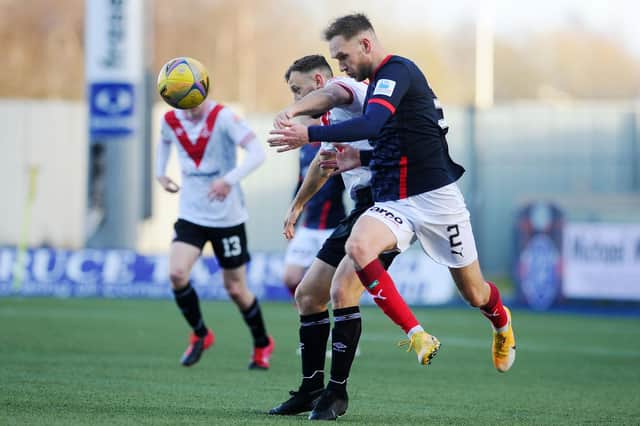 Scott Mercer challenges for the ball with Airdrie's Dale Carrick in Sunday's 1-0 defeat for the Bairns
The rearguard man was smarting at the manner of the defeat and the loss of Falkirk's undefeated sequence at the summit of League One.
But a poor result, he added, would harden the resolve to put things right in the next game.
"We should have been more at it," he said. "I don't know what the idea was – we had chances in the first half but didn't take them. And then we were kind of pushing at the end, but it's obviously a poor result and we will just look to correct that next week."
The game itself was fairly even but the 25-yer-old added: "We knew what we needed to do and we did things well but we've lost a sloppy goal and, as a defender, that's obviously that's hard to take. We have been good recently.
"So, coming off that, we created some chances but, in the second half, we didn't create enough."
Falkirk would now have to pick themselves up after such a long run without losing – but that would only bolster their determination, said Mercer.
"Yes, it's a massive game now on Boxing Day (at home to Partick Thistle, kicking off at noon). So we will just look to correct the mistakes we made today and go and push again."
The fact the unbeaten record had gone might even ease the focus a bit for Lee Miller, David McCracken and their troops.
"I think every game is just as big as another, especially after a defeat," added Mercer. "You obviously want to go and correct a poor result. But it's a massive game. Every game we are taking week by week and it's just massive for us. We need to make sure we are right at it and get the three points."
Falkirk had a good squad and everyone was playing well at the moment, said Mercer, but Sunday's game had been lost through a goal from a set piece. "So we need to look back at that and make sure that doesn't happen again," he added.
The little jolt had reminded the club that, despite their excellent start to the season, they wouldn't get things their own way all the time.
"We know that," said Mercer. "We go into every week expecting a very hard game and we know everyone is coming here and wanting to take points off us, so we know every game is going to be like that.
"We did have good chances in the first half and, if you score one of them, the game is different. It's a completely different game. But there were some good patterns, so we'll just need to make sure we work hard and are right at it again on Saturday."
Falkirk's lead in League One was pared back to four points by Montrose's win over Dumbarton on Saturday, while Boxing Day's opponents Partick Thistle are in third place, despite a single-goal loss at home to Peterhead.