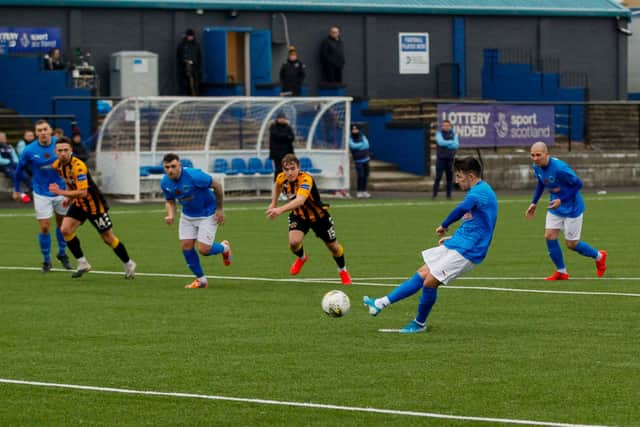 Bo'ness United in Lowland League action against Berwick Rangers (Pic by Scott Louden)
Lowland League United have addressed representatives of feeder team Bo'ness United Junior FC, who are considering moving to the senior ranks – they must apply by a March 31 deadline – due to their junior league disbanding this summer.
"This would effectively mean Bo'ness having two senior clubs," Muirhead told the Journal and Gazette.
"Us in the Lowland League and them in the East of Scotland League.
"I think they're going to rebrand and do a lot of different things that we're not very keen on.
"We spoke to our members and they're dead against it, unanimously.
"It won't benefit the town of Bo'ness in terms of a pathway because they'll break the pathway.
"We told them that so they are away to have a rethink and come back to us."
While season 2020-21 – on hold for over two months for Scottish minor league teams due to the coronavirus pandemic – marks Bo'ness United's first season in the Lowland League, their junior counterparts have been plying their trade in the East Region Scottish Junior FA Premiership South.
But several teams in that latter league are quitting this summer in a mass exodus to turn senior, effectively meaning Bo'ness United Juniors would fold altogether without following suit.
"When we moved out of the junior league to go into the East of Scotland League, obviously it created a gap in the junior league," Muirhead added.
"They (Bo'ness Unied Juniors) saw a gap in the market, asking: 'Could we come in as a junior team?'
"It was sold to our members that this would keep a pathway to senior football from community, up to amateur, up to junior and then you've got seniors.
"There were a lot of pros and cons but our members said 'yes' to it as they saw Bo'ness kids coming right through the ranks, going senior and going to Bo'ness United.
"But if the Juniors went and did this, that is going to break that pathway. The guys would go to amateur level and think: 'There are now two teams in Bo'ness' and we'll be fighting each other."