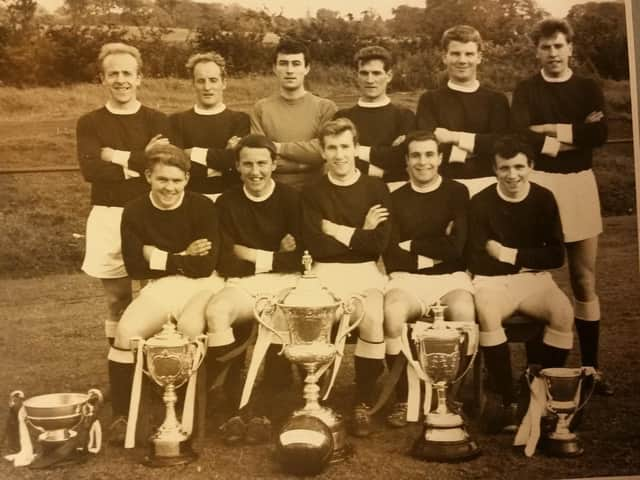 A Trophy laden Linlithgow Rose squad from yesteryear including Bobby Veitch (back row, third from right)
Bobby started his career at Bo'ness United before moving into the senior ranks with Clyde.
When he was released in the summer of 1963, Davie Roy and Sandy Fowler made the journey to Kirkcaldy where Bobby lived at the time to persuade him to sign for the Rose.
Bobby's first game was a season opener against Bo'ness which the Rose lost 2–1 but winning would soon become a habit as the team became a major force in junior football in the years that followed.
Bobby was a combative player who played on the right of a midfield three – right half for those who remember the formation back then.
He wasn't physically imposing in terms of stature but he made up for that with his combination of fierce determination, a fine touch and a powerful shot which saw him score a number of free-kicks from distance through his career with the club.
Indeed, his tally of 54 goals in 274 matches for Linlithgow is a fantastic tally given that his role was to sit behind a plethora of excellent strikers.
These characteristics endeared him to the supporters who appreciated his determination to fight for every ball and to make good use of it when he had it.
Bobby's career statistics at Linlithgow are impressive. Between 1963 and 1971, in addition to that glorious day in 1965 when the Rose lifted the Junior Cup for the first time, Bobby won four league championship medals and appeared in 14 cup finals, winning 11 of them. His last appearance for Linlithgow was in March 1971 in a 2–0 win over Sauchie.
Bobby wasn't a stranger to Prestonfield – he was often to be found on the terracing in later years with his good friend and fellow cup winner Malky Oliphant.
Bobby was one of a number of players from the 1965 team who came back to Prestonfield to celebrate the 50th anniversary of that great day at Hampden – the camaraderie was fantastic and like all teams who had something special, they picked up as if the match had been played the day before.
Bobby has extensive family connections in the area and our condolences go out to them – this is such a difficult time to lose a loved one. Bobby brought a lot of pleasure to a lot of people through his talent and commitment and those who had the privilege of watching him will remember him with great fondness.
Once normality returns, no matter when that may be, Linlithgow Rose's club chaplain David Todd will lead a service of reflection and thanksgiving for those who have lost loved ones and who had a connection to the football club whether as a player or supporter.
The club will publish further details about the service in due course.