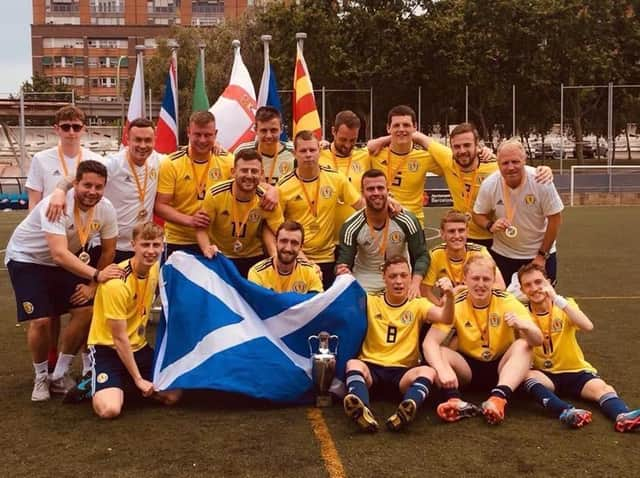 Greig (1st left) with Scotland cerebral palsy team squad after winning their first ever tournament in Barcelona last year without conceding a goal.
BU Juniors head of club development Greig Taylor (33), who was raised in Bo'ness, worked in the Far East between 2016 and 2017 after being picked as one of only 30 successful applicants from an original 400 people interviewed.
"It was interesting working in China," Greig told the Journal and Gazette.
"We were working in football specific schools, with players with a wide range of abilities.
"Each session I delivered was done through a translator who had no idea about football so getting the technical information across was quite difficult at times with a lot of demonstration required.
"My accommodation was great. I was put up in a Holiday Inn, which was a five star hotel in China.
"My suite was on the top floor overlooking the skyline of Nanchang.
"The room did bring some home comforts like a normal toilet and a bath which were very rare in China.
"It was frantic in China with everything done at 100 miles per hour.
"I loved the hustle and bustle though and the food was fantastic. I met some great people over there and can't wait to go back."
Prior to going to China, Greig spent four years at Broxburn Athletic, heading up community development and spending time as assistant coach to then manager Max Christie, the current gaffer of the Bo'ness United senior team.
Greig has managed the Scotland cerebral palsy team for nearly four years, leading them to a fine tournament win in Barcelona last year.
On his new role back in his home town, Greig said:"I'm delighted as B'oness United Juniors are a fantastic club.
"We have recently just made the transition into junior football and exciting challenges lie ahead.
"To be part of the journey and help guide the club in the right direction is something that I will thrive upon.
"I want to raise the profile of the club within our community and the extended footballing community.
"I want to deliver on our key outcomes from our strategical plan and ensure strong positive links between community club, amateurs and our existing senior side."