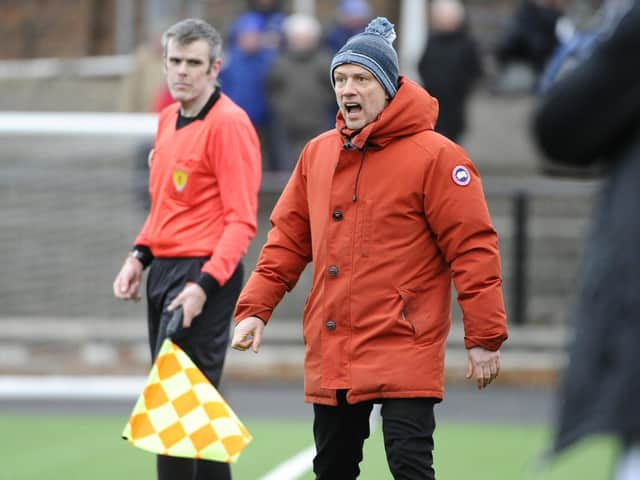 Boness United manager Max Christie hopes to be leading his team into the Lowland League next season
The BUs – declared title winners last month on a points won per game basis to end a coronavirus-interrupted campaign – will be promoted to tier five of the senior football pyramid if, as expected, their licence to join the Lowland League is granted at an SFA AGM in June.
"We wouldn't be going into the league with an inferiority complex," Christie told the Journal and Gazette. "We're a big non league team with expectation levels.
"If we do go up – which is a massive caveat – we are going in to compete.
"I think the top half of the Lowland League is stronger than the top half of the East of Scotland League.
"But I think the middle to bottom of the league is not as strong as the top half of the East of Scotland, if that makes sense.
"We have played a lot of Lowland teams in friendlies and we played BSC this year and they beat us in extra time.
"We know we'd face East Kilbride, East Stirling, BSC, Bonnyrigg Rose, Spartans, good teams at the top end.
"I think it's a good league.
"We have played against Bonnyrigg for the past 40 years and we have beaten them and they've beaten us.
"The last few games we've played against them, they've won two and we've won two.
"We just want to be competitive in every game."
The unprecedented nature of the world under lockdown at the moment means that Bo'ness United players and management will be denied the joy of being presented with the East of Scotland Premier Division trophy for the time being.
The Covid-19 crisis looks likely to continue disrupting our lives for many months yet, with group gatherings frowned upon in favour of social distancing.
"This title win has at least boosted the people of Bo'ness," Max said.
"Everybody in part-time football spends half their life in the driving rain on cold Tuesday and Thursday nights "And we do it because we love it and enjoy the good times. It can be hard work at times!"