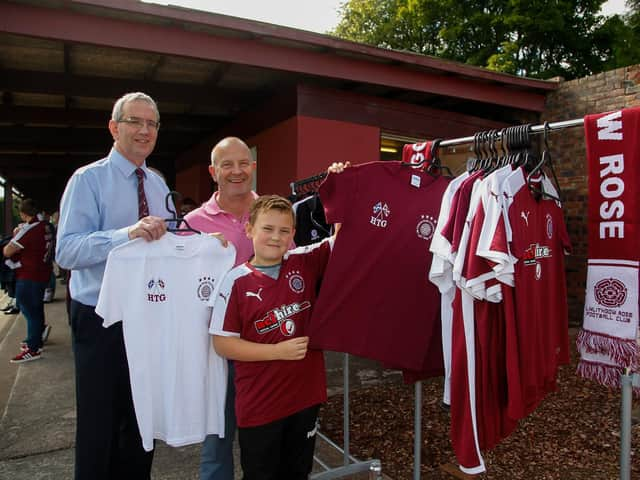 Jon Mahoney (1st left) is pictured with Linlithgow Rose supporters
Rose – who last played on March 10 – have eight home games outstanding in the 2019-20 East of Scotland Premier Division including a lucrative derby against local rivals Bo'ness United.
"At the point when the season stopped we had eight home matches out of our 15 remaining league games still to play," Mahoney told the Journal and Gazette.
"I would say that has cost us around £15,000 or so because those games included fixtures against all of the teams in the top spots.
"The last game down at Bo'ness at Christmas had an attendance of 1150.
"If you accept that there would be 1000 or thereabouts turning up at the return fixture, by the time you account for your half-time prize draw, your match hospitality, your takings from refreshments inside the ground and your entry money that's probably a £5000 game in its own right.
"We always get a lot of people in the supporters club too and it's generally a really good atmosphere. So it's probably costing the social club about £3000 on the day.
"Across Linlithgow Rose we are looking at losing seven or eight grand just from that one game."
Despite taking such a massive financial hit and having no prospect of a return to normality for months, Mahoney said that Rose remain on a strong footing thanks to manager Brown Ferguson and his players stopping taking a salary from the club.
Linlithgow and local rivals Bo'ness United now have to submit a vote to the East of Scotland League by noon today (Friday), stating if they support plans to end the 2019-20 season now on a points per game basis, resulting in the region's three current league leaders being declared champions and there being no relegation.
Member clubs are being asked to follow the decision of leagues higher up the Scottish football pyramid, such as the SPFL and the Lowland League, to conclude the season on the points per game ruling.
Linlithgow's pre-lockdown standing of 10th place in the East of Scotland Premier Division with 13 games remaining means that their interest levels in ending the season now would appear minimal.
Leaders Bo'ness, on the other hand, stand to gain considerably as they would be declared league champions if the season was decided now on average points, as they sit nine points clear at the top with nine games left.
Usually the East of Scotland champions play-off against their South of Scotland counterparts for one spot in the Lowland League but that won't be happening this time as Stranraer Reserves – who although second in the South division have a better points per game record than anyone else and so would finish top – would be ineligible to enter the play-off as the Stranraer first team are already part of the SPFL pyramid system and having two clubs under the same banner is outlawed in the professional game.