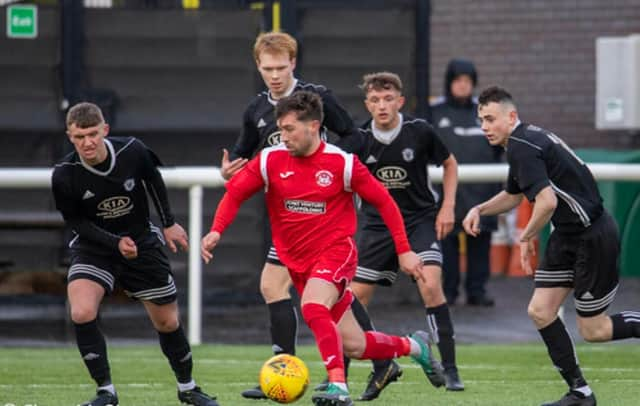 Craig Donaldson in action for former club Sauchie
The striker, 33, whose Rose career has been hampered by a knee cartilage problem and subsequent operation, is in rehab as doubts remain over if and when the East of Scotland League will resume having been mothballed for over two months due to coronavirus.
The effects of his troublesome knee and operation last November meant that ex-Sauchie ace Donaldson missed playing for Rose when the 2020-21 league campaign ran from October to December, but he continued to keep up to do cycling and walking.
He told the Journal and Gazette: "The guys were back (training) in September and it was really tough for me to take because I had been playing at Sauchie the previous season with no pain and I was really looking forward to play for Linlithgow having signed a pre-contract.
"Everything was looking rosy for me, I was really happy to come to the club.
"It was a new start working with the manager (Brown Ferguson) and actually being with a team that will be challenging at the top end of the league, no disrespect to Sauchie who are probably a mid table team.
"But the gaffer still wanted me around the training and the physio was there so I was still getting treatment leading up to my surgery.
"It just hit me even harder, watching the guys training and the gaffer taking sessions but it gave me the motivation to hopefully get back.
"The current shutdown is probably good for me because, knowing what I'm like, if the boys were back playing just now I would probably try and rush myself to get back whereas now I've got the time.
"I can take it easy, hopefully I don't get any setbacks. I'm working away on my rehab. Yes it's tough for me just now, the gyms are shut, there's only certain stuff I can do in the house.
"I'm probably targeting next season now. My surgeon Graham Lawson has asked me to do things that are a wee bit more high intensity and I report back to him in April."