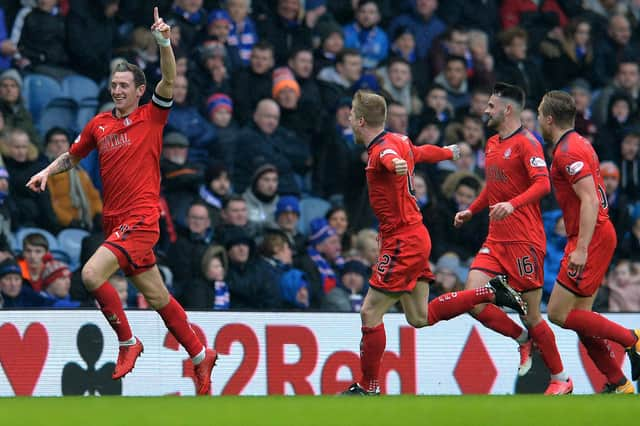 Falkirk's Aaron Muirhead celebrates scoring during March 2018's Scottish Cup quarter-final match against Rangers. (Photo: Mark Runnacles/Getty Images)
Miller's men have been drawn against Rangers in the Betfred Cup's second round on Saturday, November 28.
That match comes half a decade after Falkirk defeated the Light Blues 2-1 and 3-2 in Championship games played in December 2015 and March 2016 respectively.
"The atmosphere was incredible in those two games," Miller told the Falkirk Herald.
Kyle Lafferty of Rangers challenges Falkirk's Jackie McNamara during 2009's Scottish Cup final at Glasgow's Hampden Park (Photo by Jeff J Mitchell/Getty Images)
"They were great games to be involved in. It was the surprise element.
"We are not expected to win these games, so there's no pressure at all.
"You play with the shackles off and you just go and play your own game.
"We'll have a game plan in place and we'll take it into that game and we'll see what happens.
Falkirk's Lee Miller playing against Rangers in a Championship match in March 2016 (Picture Michael Gillen)
"The boys are looking forward to it, and there's a real good spirit in the training camp just now.
"You can see the boys are buzzing about it.
"Training has been really good, of a high standard and with loads of energy in it.
"You want to test yourself against the best teams. We are no different from anybody else.
"It will be a good test for us because they're obviously the in-form team in the country just now.
"I think they will make changes obviously, with them having Benfica through the week, but it will still be a high calibre of player playing against us.
"A lot of the boys haven't played against the Old Firm in their careers yet so it will be good for them.
"Our squad hasn't got that fear factor. They don't fear anybody. They just go out and play.
"Whoever they are playing against, they are up for it and they've got a game plan in place.
"Yes, they'll be nervous, but nervous energy is good going into a game."
One obvious disappointment for Bairns followers about the match a week on Saturday is that – with restrictions on mass gatherings due to the ongoing coronavirus pandemic – no fans will be in attendance at the Falkirk Stadium.
"It's gutting for the fans and for us that there will be no fans there," Miller said.
"When this place is packed out, it's a great atmosphere created and it is a definite 12th man for us.
"We saw that, when you're talking about seasons past, in the play-off games.
"The Falkirk fans back us, and you can see that.
"I speak to fans virtually every day and they're desperate to get back to the Falkirk Stadium, but it is what it is just now and there's nothing we can do about it.
"I feel sorry for the fans that aren't going to be here to see these games.
"Fingers crossed everything clears up in the near future and we get fans back."