Coronavirus in Scotland: 'Let us play' - Is women's football an afterthought in Scotland?
As the Scottish Women's Premier League continues to be paused, four leading lights of the Scottish women's game speak out as they seek answers as to why they aren't allowed to even train, whilst many in the men's game play on.
Wednesday, 24th February 2021, 7:00 am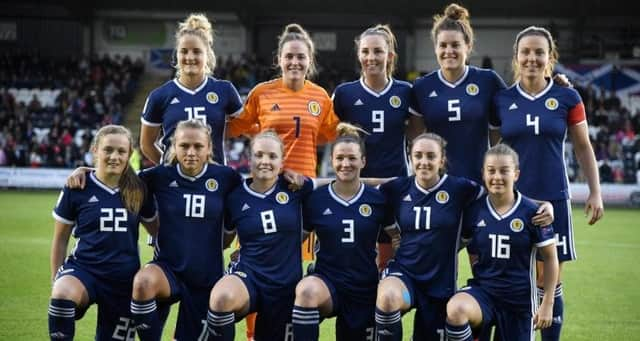 The Scottish national team already inspired a generation, but the pausing of the SWPL1 has halted the development of the game.
On the face of it, the future is bright for Scottish women's football.
After years of being in the shadow of the men's game, the Women's World Cup in 2019 seemed to be a defining moment in women's football.
With the likes Megan Rapinoe and Alex Morgan catapulted into worldwide stardom almost overnight, women's football finally saw itself move into the limelight, both in Scotland and abroad.
In fact, just take a walk along Argyle Street in Glasgow and you'll be able to see Irvine-born Erin Cuthbert adorn the front of JD Sports' window.
However, approximately 20 months on from the tournament that seemed to extinguish inequality within the game, signs are showing that the gender gap still exists.
"I can't even express my feelings. I try to control my emotions to prevent any sort of envy but sometimes when frustration is in the air and I see games televised, I sometimes can't even watch" said Hibs' notoriously strong-willed midfielder Charlotte Potts who, alongside many others in the Scottish Women's top tier, are struggling with the concept that the SFA have deemed it viable to pause all women's football since the end of December, while many men's leagues across the UK are able to continue as normal. Even more concerning is that women's teams are currently prevented from training.
'It implies lack of value to women footballers'
For Celtic's Mariah Lee, who arrived at the club from American side OL Reign just before lockdown commenced, it's been particularly trying.
"I came here to play football – and we're not playing football.
"It just angers me to see such gender inequalities. If women footballers are at risk, male footballers are too. Especially with some of the men breaking the rules. It implies a lack of value towards women footballers (the decision to allow men to play, but not women).
"Celtic would jump through every hoop to get us back playing – with the right protocols in place, we can safely come back and return to play, just like the men. So it feels like it's more about the will than the means."
And whilst they may be rivals on the pitch, Rangers' Emma Brownlie is another who couldn't help hide her frustration after two months without the game she loves.
"At our level at Rangers, being professionals, we could play" she said.
"We know the support is in place to play. I do understand, however, that until every team in the league is professional, it's not safe to play.
"So maybe the lockdown has shown how far the Scottish women's leagues have to go to reach the heights of the likes of the Women's Super League in England, who are able to play currently. It's frustrating to think, if we were in England, we could still play."
Charlotte Potts added that "it would be nice to push for the funding for us all to be tested, so the league could run safely", passionately adding that the situation makes female footballers feel a "lack of value" for the sacrifices they put in, calling it "unkind".
'Whole life has been turned upside down'
For Glasgow City co-founder and Chief executive Laura Montgomery, who feels the strain of a paused season acutely, it's a situation she finds infuriating.
"We've been very vocal on our thoughts from day one.
"We have a team full of professionals that can't even train even if we follow the same guidelines as men. We asked if we paid for our own testing, could we still train for the player's mental health and wellbeing, as their whole life has been turned upside down, and for that to be refused? Yeah, it's frustrating to say the least.
"We brought in five players from other countries in the last transfer window. Some of them have left family, some of them have left husbands – and they can't even see their team mates" said the former defender, clearly exasperated from what she sees as an inequality within the genders.
For Montgomery, it's not just on the pitch where she feels that decisions made by the SFA during the current lockdown have shown a gross disparity between the genders.
"All clubs got a payment from the SFA due to Covid.
"Teams in the men's Championship, like Alloa for example, got £500,000. Each of these payments were based on loss of spectator income. Alloa, at best, get four times the amount of fans we get, yet we received £9,000 – less than 2 per cent of them. There was definitely an inequality in those distribution of funds, and that's before I even get to everything else.
"That doesn't take into account how much ties into sponsorship, as opposed to spectator revenue."
On the subject of getting teams back on the pitch the Chief executive adds: "The challenge now is if all teams could test, could we get back training? Not all clubs in the league can afford to test. There were some other funds at the start of the year, but I'm sure most clubs will have spent that by now with loss of spectator income, or bringing in Covid measures. It's hard for clubs, when you've only been given £9,000 to then be able to commit to testing for the rest of the season, because it costs a lot more than that – a hell of a lot more.
"The SFA have had $500,000 from FIFA since last summer purely to help the women's game with Covid. That's what we have been pleading for to be used because if ever the women's game needed help, then it's now.
"I don't want to say we are a second thought, because I've questioned, at times, if we are even a thought" she said.
"That never became become more apparent than during the first shutdown of league in January. The official documents said 'all leagues below SPFL and the Championship' – the Scottish Women's Premier League doesn't sit below the men's Championship, it doesn't even sit within the men's pyramid – so the use of language emphasised where we are in the thought process of those who make the decisions.
"The lack of visibility at the very highest level of our game is really damaging considering the growth we managed to make with the World Cup, and our own clubs success in European competition. We've managed to attract a lot of high profile Scottish internationals back into league. The league's never been at the level it's at and to see it disappear from the media and spectator spotlight – these are the exact same reasons why the men's game wasn't allowed to disappear.
"It's difficult to take at times."
In response, an SFA spokesperson said:"The Scottish FA Board suspended football on January 11 following a meeting with the Minister for Public Health Sport and Wellbeing in light of the escalating COVID-19 situation caused by new strains of the virus, which resulted in a spike in positive cases and increased travel restrictions.
"The suspension encompassed predominantly part-time tiers of the Scottish game: SPFL League One, SPFL League Two, Scottish Women's Football Premier Leagues 1 & 2, Highland League, Lowland League, East, West & South of Scotland Leagues, Scottish Junior FA Leagues and the North Caledonian League.
"The SPFL Championship was only able to continue provided it commenced weekly PCR testing.
"This suspension was to prevent the spread of the virus among part-time footballers, many of whom have full-time jobs, travelling to play matches while untested at a time when a sharp rise in positive cases had been confirmed by Scottish Government.
"The Scottish Government awarded Scottish football a £30m relief fund, primarily to offset losses incurred due to matches being played behind closed doors. This included £20m in loan funding for the Premiership and £10 million in grant funding for all other levels of the game.
"Scottish Women's Football received £190,000 and Scottish Government insisted that the money was divided evenly across clubs within each tier. The amount allocated per tier within the women's game was decided by SWF.
"The suspension of football includes training and matches and therefore would go against the principles of the suspension as outlined to enable part-time players to train, irrespective of whether all teams could comply with the testing regime or not. Furthermore, the Elite Athlete Exemption allows training for participation in elite competition. With competitions suspended, individual club training falls outwith the exemption.
"The FIFA COVID fund is designed to support the recovery and return of the girls' and women's game at all levels, including participation, domestic leagues and performance. This investment will help create a strong platform for the new strategic plan for women's football, which will be overseen by the new Head of Girls' and Women's Football, Fiona McIntyre."