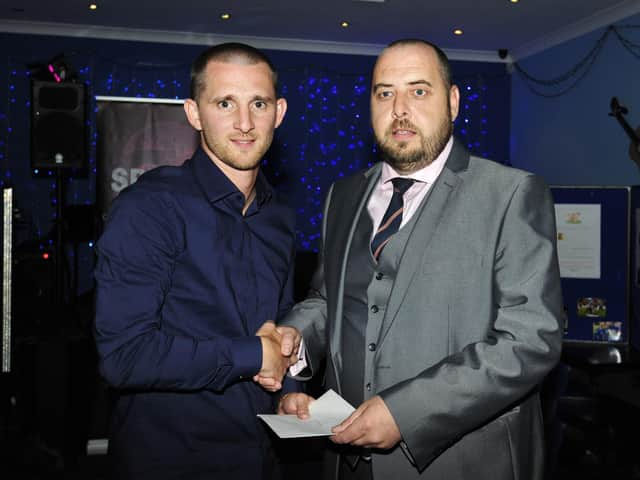 BU chairman Iain Muirhead (right), pictured with player Will Snowdon, hopes to ffind out within a fortnight if the club have gained a licence and been promoted to the Lowland League.
SFA licensing officer Brian Mann has requested that the Zoom conference of board members includes ratifying the East of Scotland Premier Division champions' place in the fifth tier of the Scottish football pyramid next season.
"I'm 99.9 per cent sure our licence application will be on the agenda at this meeting on June 18," Bo'ness United chairman Iain Muirhead told the Journal and Gazette.
"That's a date that basically I'll be quaking a wee bit as this is our passport to the Lowland League.
"It's what we've worked for so to me that will be like the new Christmas Day. It's crucial for where we want to go.
"A lot rides on us getting this licence in terms of sponsorship and player recruitment.
"We hope to hear some positive news on June 18 or 19 in an email from Ian Maxwell (SFA chief executive) or Brian Mann to say that everything has been OKd and our certificate is in the post. If they've not contacted me by the 19th I'll be contacting them, that's for sure!"
Granting of the Lowland League licence to Bo'ness United seems a formality as the club has already had its licence audit – assessing policies like Newtown Park ground regulations, risk assessment, disability access, medical guidelines, whether club coaches are UEFA licensed, its code of conduct and social media policies – approved by the SFA.
Muirhead added: "Nine or 10 documents we had to draw up and get signed off from a health and safety person, the fire brigade and the local council so there has been a bit of work involved in that."
As reported last week, BU manager Max Christie feels he may have to put new player signings on hold until the licence is officially ratified.
Muirhead said: "I believe that Max would be able to go and sign players with confidence when our licence is sorted.
"In terms of player recruitment, we have something marketable to offer to a player that other teams who are interested in that player maybe haven't, ie Linlithgow Rose.
"If we go up to the Lowland League we're playing a tier above. We just need to get the green light."