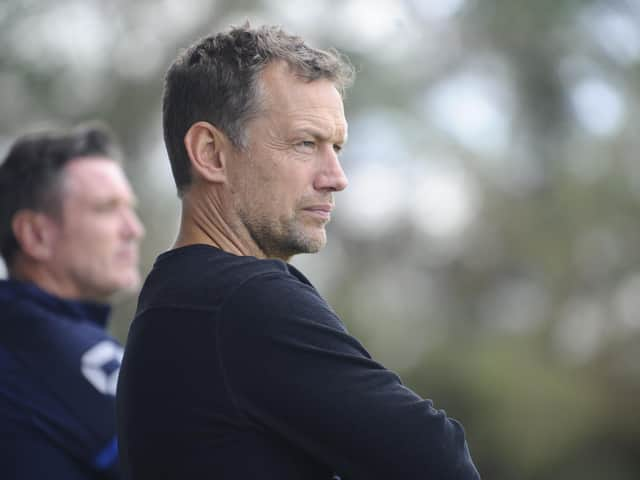 Bo'ness United gaffer Max Christie
BU gaffer Max Christie is understandably chuffed that his long time leaders have landed the title and now - subject to being awarded a Lowland League licence at an SFA AGM in June - looking set to take their place in tier five of the Scottish football pyramid whenever next season starts.
Christie said: "I'm delighted. Everybody from the chairman to the committee, they have worked so hard to get this and it just means the world to the club.
"Assuming we do get promoted, it's a real feather in their cap. It's a good place to work, I've enjoyed it and there are good people at the club.
Bo'ness (in blue shirts) in action against local rivals Linlithgow Rose earlier this season
"The players and everybody connected with the club have had their challenges this year. We never had a pitch, we never had anywhere to train for the first two months of the season.
"All our games were away from home and we couldn't train anywhere.
"We were finding a bit of grass, getting the jerseys down and running the boys. That was difficult.
"We had a team with a certain type of player who was built for grass and really combative. And then we're going onto an astroturf pitch where you need players that are better on top of the ground. We got on with it fantastically well.
"Whilst we thought we were contenders at the start of the season, there was no clear favourite to win the league.
"We have been top of the league since September. And we had some really resilient results."
In these unprecedented times of lockdown, Christie doesn't think it will be practical for Bo'ness to be presented with the league trophy with society likely to remain disrupted for months.
He added: "I don't think we'll be having an open bus parade through the streets of Bo'ness!"
Meanwhile, the vote results revealed on Friday also saw those polled asked if there should be no relegation and if conference winners Lothian Thistle Hutchison Vale (Conference A) and Tynecastle (Conference B) would be promoted to temporarily create a bigger Premier Division next season, and these proposals were also carried, by 29 votes to 11.
East of Scotland League secretary David Baxter told the Edinburgh Evening News: "It's not a circumstance anybody really wants to be in to win a title this way.
"But, as with other leagues in the pyramid, the East of Scotland League has taken a similar view that the only way of finalising it is based on this method.
"Bo'ness have been top of the Premier Division for quite a number of months and by every factor they've been leading it this season so it's congratulations to them and the two conference winners Lothian Thistle and Tynecastle.
"By winning the league, first of all Bo'ness get the trophy. Secondly that gets them automatic entry into what's currently known as the William Hill Scottish Cup for next season.
"But promotion is another matter and for that they need to have an SFA licence. The SFA say they will get that at the SFA AGM in early June.
"Technically the SFA give Bo'ness their membership first and then the licensing committee give them the licence and the nod.
"And that tends to happen within a day of the AGM or at least on what happened last year, that's the expectation.
"With Covid-19, no-one knows what's going to happen with the start of next season anyway."
If Bo'ness are promoted to the Scottish Lowland League - just one level below League 2 in the SPFL pyramid - they will be replaced by the conference runner-up club with the highest points per game record.
And, at the end of season 2020-21, each First Division conference winner will be promoted with as many clubs as necessary relegated to restore the Premier Division to 16 clubs.