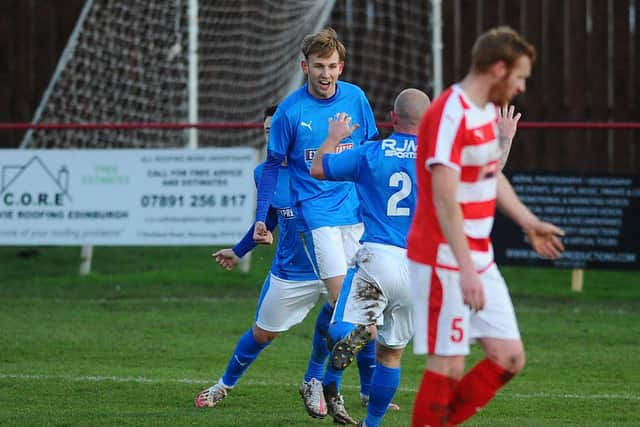 Zander Miller celebrates scoring a goal for Bo'ness United (Submitted pic)
Miller, like all Lowland League players, has been out of action for three months due to coronavirus restrictions which seem likely to see this league null and voided.
But the Falkirk-born forward now faces resuming group training and playing up to four games a week between now and April 20 after joining League 2 strugglers Cowdenbeath on loan until the end of this campaign.
Miller, 28, who is under contract with Bo'ness until summer 2022, told the Journal and Gazette: "I got a phonecall from Max (BU manager Max Christie) and he was like: 'Are you fit?'
"I thought we were maybe going back to training so I said I had been keeping myself ticking over.
"But Max said that Cowdenbeath had been in touch with Bo'ness with regards to signing me until the end of the season. I would get some game time there and I would get back training so it's getting back to normality a bit as well.
"You're so used to playing football all your life so it was good to get the shout.
"I think it's happening quite a lot in the Lowland League, there's a few other players that are going on loan to League 1 and League 2 sides.
"Max asked me if I wanted to go and of course I jumped at it. Max was like: 'Are you fit?'
"Cowdenbeath are sitting third bottom and they said that one of their main issues was scoring goals and that's why they looked at myself.
"I played against them in the Scottish Cup last year with Broxburn, we beat them over two games and I scored so hopefully they were quite impressed and that's kind of why they made the move."
Miller watched Cowdenbeath lose 3-0 at Partick Thistle in Tuesday night's Scottish Cup second round clash, a game he couldn't play in as he was cup tied.
But he will be available for selection for the Blue Brazil's home League 2 game against Stranraer this Saturday.
"I think it's going to be Saturday, Tuesday, Thursday, Saturday matches for a few weeks," Miller said.
"That would be tough on any player.
"But for me personally I hope just to get game time and to help them stay up by scoring goals, that's the main aim."