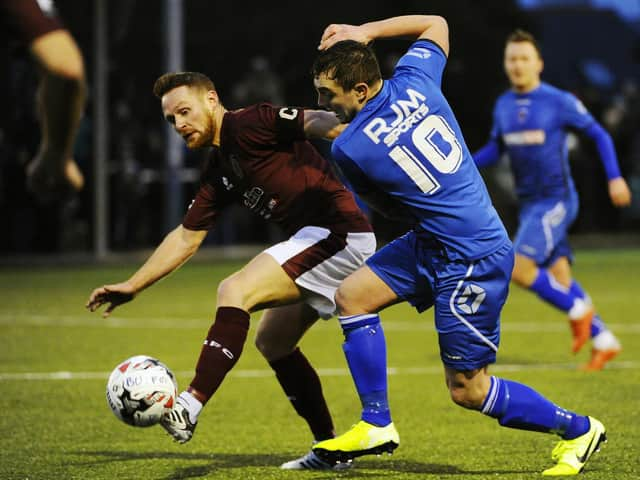 Bo'ness United in action against local rivals Linlithgow Rose earlier this season (Pic by Alan Murray)
Clubs have until noon to vote on plans to end the unfinished 2019-20 season now on a points per game basis, which would result in Bo'ness being declared champions and no relegation.
Bo'ness United chairman Iain Muirhead is hoping that the resolutions are voted through, with the added bonus that his team could gain promotion to the Lowland League without having to contest a two-legged play-off against the South of Scotland League champions.
This is because Stranraer Reserves – who although second in the South division have a better points per game record than anyone else and so would finish top – would be ineligible to enter the play-off as the Stranraer first team are already part of the SPFL pyramid system and having two clubs under the same banner is outlawed in the professional game.
BU supremo Muirhead said: "This vote for the member clubs is just to end the league. If the vote goes for us it means that we would be crowned champions.
"If that happens then I think we definitely should be promoted, even if it means a bigger Lowland League.
"It's not the way that anybody at Bo'ness United would have wanted it.
"But promotion was our goal at the start of the season.
"We put a business plan in place in terms of the transfer and the player wages budgets to have a go at this year.
"So if we weren't to get promotion and go back to the same level as last year it would be devastating for us."
Muirhead stressed that a full new discussion would need to follow between clubs regarding Bo'ness's potential promotion. But if Stranraer Reserves won the South of Scotland League then no play-off would take place.
He added: "The next stage after that is first and foremost we need to be licensed to get into the Lowland League. The SFA will be discussing it at their AGM in June and I'm 99.9 per cent sure the licence will be passed."
Bo'ness trying to gain a Lowland League licence in unusual circumstances would mirror what happened last season to Bonnyrigg Rose, who went up without a play-off as South champions Stranraer Reserves were barred.