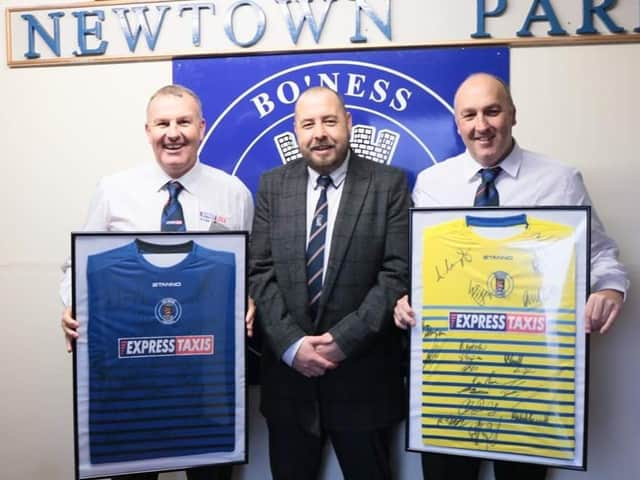 BU chairman Iain Muirhead is hopeful socially distanced fans will get back into Newtown Park by next month
The BU supremo – like representatives of all Scottish football clubs below the Premiership – is hoping the 2020-21 league season (in Bo'ness's case, the Lowland League) can get under way by October with spectators present, due to further government easing of coronavirus safety measures.
"If we can get fans back in the gate at friendlies and in competitive games that would be the best news ever," Muirhead told the Journal and Gazette. "So hopefully we can.
"I think any club at our level – or even in the Championship, League 1 or League 2, would struggle to start the season without fans because gate receipts are how we make our money.
"Newtown Park holds around 1500 spectators and our average gate is probably in the region of 300 to 400. So we believe we could socially distance those fans quite easily. They could go sporadically around the ground at a 2m distance, but that would need to be managed of course.
"Whether that gets cut to 1m going forward, with face masks being worn or whatever it may be, all the better.
"I don't want to say there's a plan in place because it is forever changing depending on what Nicola Sturgeon and the SFA's Coronavirus Joint Response Group say."
Elite football, rugby and racing in Scotland, with suitable health protection measures in place, has been permitted behind closed doors since June 22.
Next Monday, August 24 is the indicative date for the return of organised outdoor contact sport for all ages, following guidance from relevant sports bodies.
This includes full contact training for all football clubs in Scotland below the Premiership. Bo'ness are scheduled to resume training next Tuesday, August 25.
Bo'ness, like all clubs at their level, don't yet have a confirmed fixture list for next season's league campaign.
Muirhead said he was worried that the proposed October start date could be jeopardised if footballers currently playing in Scotland – like the high profile recent cases at Aberdeen and Celtic – flout coronavirus regulations.