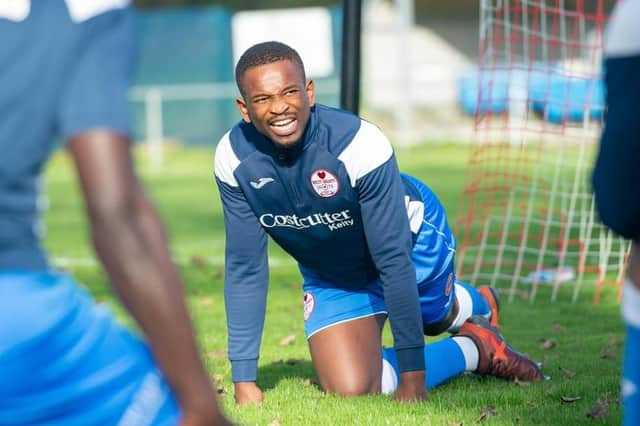 Linlithgow Rose ace Arnie Kasa
Born in DR Congo, Kasa, 28, is a Czech national having spent two years living in the Czech Republic as a child.
The midfielder, a primary school teacher in Fife, has an older brother – Evarist – who once played for Slavia Prague's pro youth team.
Arnie told the Journal and Gazette: "I wrote a poem about Glen Kamara because it kind of took me back. It was heartbreaking to hear.
"When I was about seven my mum moved to Prague. She lived there for about four, five years and then me and my siblings followed later with Czech passports.
"The legacy (of racism) kind of overshadowed the good times we had there.
"The school there was like secondary and primary school together. I was the only black kid in the whole school out of 300 or 400 people.
"So it was a bit of a culture shock. I got to Prague on the Saturday and started school on the Monday, not speaking the language and in a different environment.
"Within two or three months I could write and I could understand it and made some school friends.
"But going to school, the racism was quite apparent, I would be spat at. In the supermarket, I had people calling me black …. too.
"I didn't expect it and I didn't expect people to be so hostile towards me.
"The kids were maybe just scared of the unknown and didn't know how to behave.
"It was just extreme. I'm hoping it's not like that now.
"But any time good people witnessed the racism they would call it out.
"I would definitely go back to visit."
Kasa moved to Scotland in 2009 and played for Kelty Hearts before joining Linlithgow. At the age of 19, he said he also suffered racial abuse from an opposition player – who was later convicted – when playing for BSC Glasgow.
"The guy made a racist comment as I ran past him and got a red card," Kasa said. "I walked off because I didn't expect it."
Kudela's alleged comments to Kamara are being investigated by UEFA and Police Scotland; Slavia deny the allegations against Kudela.