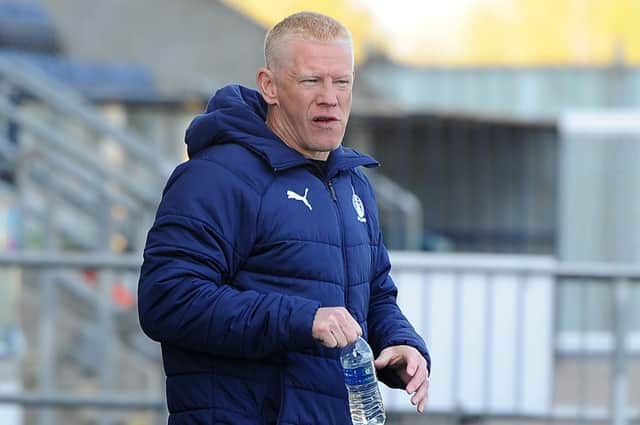 Gary Holt will not be taking up the Falkirk manager role on a permanent basis
"It's only been a short space of time and I've had a lot on my plate doing this job and my job," said Holt.
"We will collect and correlate all the CVs that have been sent in.
"I'm delighted with the exposure we're getting and we will draw up a criteria of what the job specification will be and have due diligence of the people we want to talk to and then go through the proper processes.
"We're trying to put in place a long term project here so it won't be a knee jerk reaction.
"The right candidate needs to fit in to the work ethic and the procedures we're putting in place as a club.
"We've brought in a development coach and want to bring young boys through that the fans can see and buy in to so we need someone who can enhance that and make these players better while also playing an exciting and entertaining brand of football."
Holt was speaking after Saturday's 2-2 draw at home to Cove Rangers, his first in charge as interim boss.
He said he was pleased to see every player in the team give maximum effort at a time when the squad has been decimated by injuries.
"We make two mistakes, which will happen in a game, and that cost us two goals but our effort, commitment and some of our play at times was really good.
"We had four subs on the bench so to ask the players to go to the well and do what they did today, I can't fault their effort or output.
"If you give people a job to do in the team and they know their responsibilities and know they are accountable for what they do then there are no grey areas.
"All I did was refine things slightly, a few less grey areas, telling them to do their job first then help the team out if they can after.
"We are down to the bare bones with injuries and and look at what they produced and the effort they put in, that's what the fans want to see is them trying their socks off and I don't think you could say anyone today didn't try their hardest."