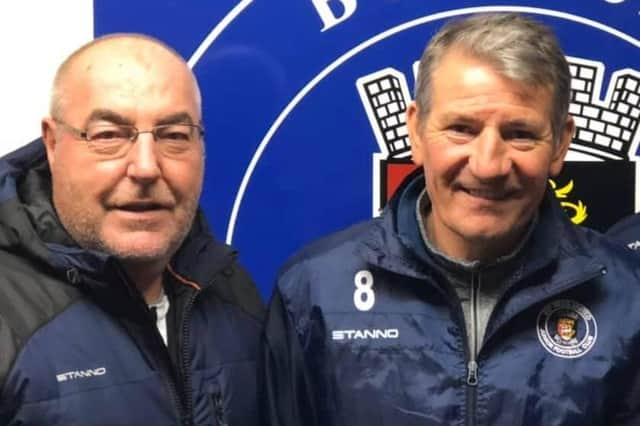 Bo'ness Athletic manager Willie Irvine (right) with assistant Tam Beattie
This is because Bo'ness Athletic – the new name for Bo'ness United Junior FC – last week had an application accepted to take their place in next season's East of Scotland League set-up, three levels below the established Bo'ness United team playing in the Lowland League.
Athletic secretary Derek Oliver, who revealed that the two Bo'ness teams will play at Newtown Park on alternate weekends, told the Journal and Gazette: "It's very exciting times for everybody associated with the club. It's been a lot of work in the background to demonstrate how the club is being run.
"Being a new club comes with significant challenges, but with the history of our club – previously being Linlithgow Thistle AFC then Bo'ness United Juniors – it is the next step in our progression and one we're excited for.
"It's still to be finalised however indications are that the clubs that comprised the East Region juniors last season – like us, Whitburn, Armadale, Bathgate – we will be going in en bloc as an add on league with the addition of Edinburgh College.
"As far as I'm aware, there will be an opportunity for us to get promoted next season. At this point in time we'll be going into a set-up two levels below the East of Scotland Premier Division, but they are talking about a restructure thereafter.
"You'll have the Premier, the two conferences coming in horizontally and then our league under that."
Derek revealed how club officials arrived at the 'Athletic' suffix for the new name.
He said: "We just looked at the names of clubs in and around the area, like Musselburgh, Penicuik, Bonnyrigg Rose, Broxburn, Preston – all Athletics – and we just thought that lended itself to where we've been in terms of the junior league then moving into the East of Scotland League.
"And we needed to have a distinction between ourselves and Bo'ness United. We felt that was the most appropriate name, to allow us to have a separate identity, our own identity and really start building something new.
"We were pleased that the East of Scotland board members who came out to do the inspection and audit recommended approval to the board to accept our application."