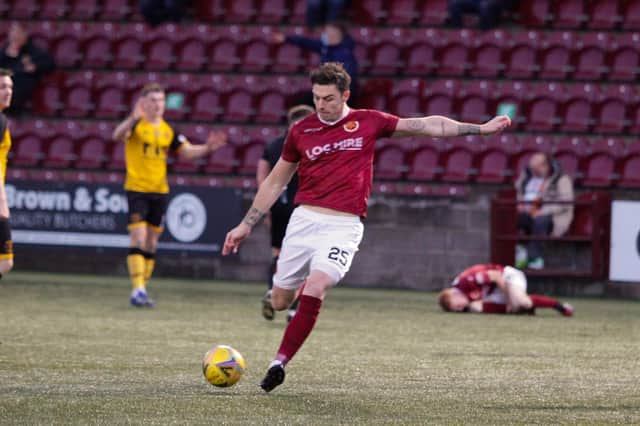 Mark McGuigan netted Stenny's goal in last weekend's 2-1 home defeat to Annan Athletic
The Warriors go in to the game on the back of their first league defeat of the season last weekend when Annan Athletic won 2-1 at Ochilview.
Max Wright netted a double either side of Mark McGuigan's goal to secure the three points for the Galabankies.
Although not pleased with his side's performance Irons was most dismayed to see Wright's second goal, which came in the dying moments of the match, not being disallowed despite being clearly offside in his view.
He said: "I don't think we deserved to lose the game, there's not really any doubt in my mind that we were the better side but we lost two really poor goals for our part.
"Officials make mistakes but that was a key moment in the game and in the last minute so there was no way back for us.
"I think Annan will honest enough to say we played the better football and had the better chances but they took the ones that came to them.
"I'm not using it as an excuse but we're still a young side and we will have ups and downs and we just have to get on with it."
Stenny need to bounce straight back now as they take on unbeaten league leaders Queen's Park this weekend.
"They are tagged as favourites for the league," said Irons.
"They are spending money and are full time but that brings a certain degree of pressure and expectation and it's up to them to handle that over the season. I expect they will have blips.
"Hampden is a great place to play, albeit it will be empty, but it's still a great environment and hopefully playing at the national stadium inspires the players.
"We will go into the game with confidence despite losing at the weekend.
"We go into the game same as every other one, it doesn't matter they are top of the league
"We will give them respect but we don't go there with any fear or trepidation and we're looking forward to the game."
The Spiders, managed by former Falkirk gaffer Ray McKinnon, come in to the game with four wins and a draw from their opening five league matches having most recently seen off Brechin City with a 3-0 home victory.