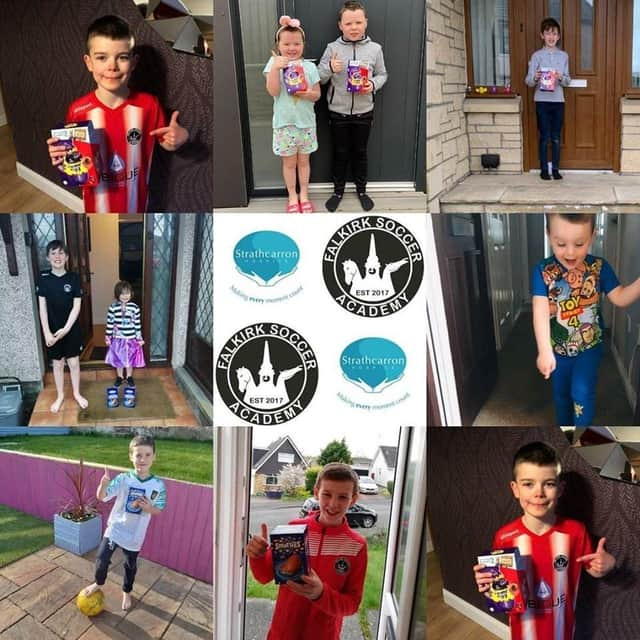 Some of the lucky Easter Egg fun drasiers from Falkirk Soccer Academy
Youngsters at the soccer school have not only helped a very worthwhile local cause, they've managed to do so while honing their ball skills and eating chocolate!
Head coach Sean Witt challenged players to take part in a sponsored skills exercise called the #FSA500ForStrathcarron – where players performed a number of different ball mastery movements which totalled up to 500 touches.
In return for their efforts, the club distributed a total of 89 chocolate eggs aided by 60 donated by Craig McCrimmon of Tesco in Linlithgow, and maximising the proceeds for the charity.
Sean told The Falkirk Herald: "The response from our members, family, friends and the local community has been incredible and exceeded my expectations.
"To do something positive during the current situation of lockdown has been a great feeling, the players have enjoyed taking part in the challenge whilst raising funds for a worthy cause and were thrilled to receive their Easter eggs with thanks to Tesco Linlithgow. Keeping in touch with parents and players has been integral to the current positivity at the club and long may it continue when things eventually go back to normal. I'd also like to thank our sponsors P Dunnigan & Son, BMM Energy, DTA Accountants and Ubique for their continued support."
Corrine Potts organised the six-hour round trip throughout Falkirk to deliver, whilst head coach Witt gave his ankle some much needed rest after being tackled by a wheelie bin during sponsored challenge video!