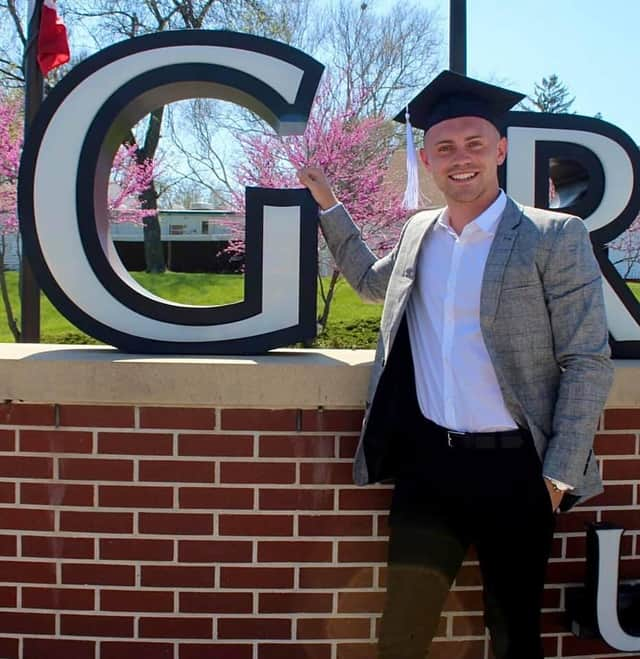 Joseph Bell has graduated from Grandview University in Iowa
Joseph Bell 21, spent the past four years earning his BSC in Kinesiology from Grand View University in Iowa.
Born in Fakirk, Joseph attended Larbert High School and played youth football for Stenhousemuir, Dunfermline Athletic, Stirling Albion and Clyde.
He was also a regional and national Scotland Schools squad player.
While playing with Clyde Under 20s in the SPFL Development League at the age of 16, Joseph decided to relocate to the USA to continue his playing and academic career.
Through local coach David Binnie he secured a scholarship at Emmanuel College in Franklin Springs, Georgia, beginning in September 2017.
After one year at Emmanuel and making the conference all-star team, Joseph was recruited by Grand View University in Des Moines, Iowa.
He played a major part in helping Grand View become the nationally ranked number 25 team in the whole of the USA, playing in both defence and midfield.
In the summer Joseph stayed in America and played for the Erie Commodores in the National Premier Soccer League, playing in the US Open Cup and becoming the Commodores youngest ever starting player.
In April this year he graduated and has now relocated to Minneapolis to take up a job with St Paul Blackhawks Soccer Academy as a Sports Scientist and Coach where he will also continue his playing career in the NPSL.