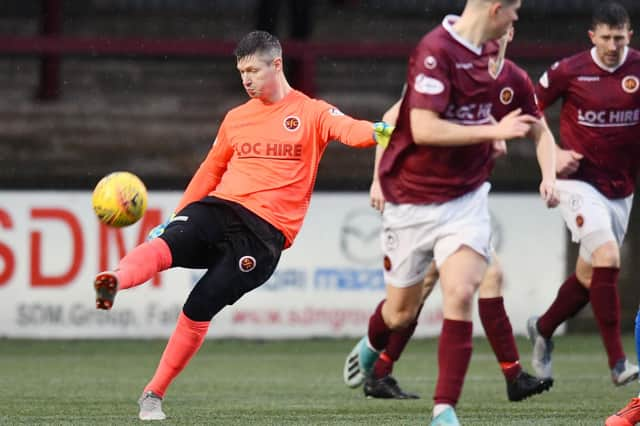 Graeme Smith is staying at Ochilview. Picture: Michael Gillen.
Among those departing are the experienced duo Scott McLaughlin and Gary Harkins.
Smith has signed a two-year deal with Davie Irons' men, doubling his stay at Ochilview.
Stenhousemuir goalkeeping coach David Binnie reacted to the news by claiming "I may well be biased but I think Graeme is the best goalkeeper at PT level in the country and it's a real coup for the club to secure him to another contract".
Smith played in last year's cup clashes with Aberdeen. Picture: Michael Gillen.
'Buzz' turned 37 earlier this week and has played 78 times in two years at the club.
However he will not be joined in League Two by fellow experienced pro's Harkins and McLaughlin, who have departed.
Harkins also announced his retirement on Twitter earlier this week.
Shaun Burns, Aidan McIlduff, Kyle Marley, Abdel Massouagoo and Robert Wilson, also exit as does Jordan Armstrong. Four loan players will also leave the club.
Gary Harkins has retired. Picture: Michael Gillen.
The Warriors are expected to add further to their squad today.
During the locked and suspension of football Stenhousemuir have been pro-active in the community helping in a variety of ways.
They recently landed awards and recognition from the Scottish Government for their community initiative.
Scott McLaughlin has been keeping others fit by 5k challenges, but he's also on the move.
Manager Davie Irons and his Ochilview coaching staff also handed back their wages to help the club during the pandemic.