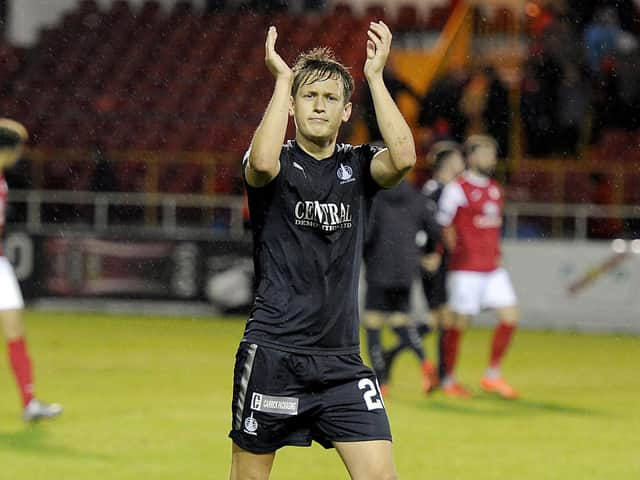 James Craigen played for both Falkirk and Raith Rovers in Scotland and is now back in his native England with AFC Fylde
The 29-year old is currently with AFC Fylde in the English National League where clubs have just recently voted to end their regular season.
Craigen, who also had spells with Partick Thistle and Raith Rovers, says the SPFL could have handled things better with the recent resolution to end the Championship, League 1 and League 2 seasons.
He said: "It's harsh relegating teams at this stage,
"Let's be honest it could have gone down a bit smoother, I'm sure looking back on it they will probably think they could have done a better job.
"I was delighted for Raith to go up, It's a great club and I had a great year there but I feel for Falkirk as well, for Lee and David who I played with, they were doing really well after coming in and were obviously only one point behind.
"Then for Partick to be relegated by a point with a game in hand doesn't really seem fair.
"Falkirk will be hoping for a 14-10-10-10 reconstruction, I think that would be the best outcome for everyone."
Craigen also drew comparisons to England's National League with his Fylde side sitting in the relegation zone.
The clubs have voted to end the season but no decision has been made in terms of promotions and relegation yet.
"It's hard to draw comparisons with what's going on in Scotland but we (the players) are in the dark just as much," said Craigen.
"As far as I know the season is done and no more games will be played.
"Barrow are top and from my encounters have been the best team in the division and with Bury being liquidated there is a space in the EFL for a team to go up.
"It's difficult because the National League is just one division compared to the whole of the SPFL."
Craigen had joined Fylde last summer but found himself back in Scotland on-loan at Arbroath after a change of manager saw his game time decrease.
"The manager who signed me at Fylde got sacked," explained Craigen.
"I had played the majority of games up until then, I got on well with the new manager but wasn't in the team and didn't feel I was getting a fair crack of the whip and asked to get sent out on loan as I needed to be playing.
"I got a phone call from Dick Campbell on the final day of the window and managed to force that through.
"Arbroath were doing really well and I'd worked under Dick before so it was a good chance to get playing with a side who were doing well.
"I was there for close to two months but with the postponements I'd only been there for four games, the lads had done well so I wasn't straight in the team either.
"I was looking forward to the fixtures coming thick and fast so it was really disappointing that it was cut short.
"Dick had actually phoned me in the summer to see if i wanted to sign for Arbroath after they got promoted.
"He said they weren't there to make up the numbers in the Championship, he set his stall out to achieve something from day one and had a group of players who were used to winning matches.
"Arbroath have some good technical players and a team spirit I've never seen before.
"My first day was the Dundee United game, I knew with how they rallied round and defended that lead that the only way was up for that team.
"I played in the Championship for five to six years and was in the play-offs every season apart from one and we thought we could do that with Arbroath as well.
"I've not made any decisions in terms of next season, I really enjoyed my time in Arbroath and would like to think I have a good reputation in Scotland, but everything is up in the air and there are more important things going on right now than football."