Falkirk's Olivia Chomczuk crowned Scotland's keepie uppie queen
She may be just 12, but Olivia Chomczuk has been voted the nation's keepie uppie queen in a nationwide poll by Keep Scotland Active.
Friday, 24th July 2020, 3:56 pm
Updated
Friday, 24th July 2020, 4:00 pm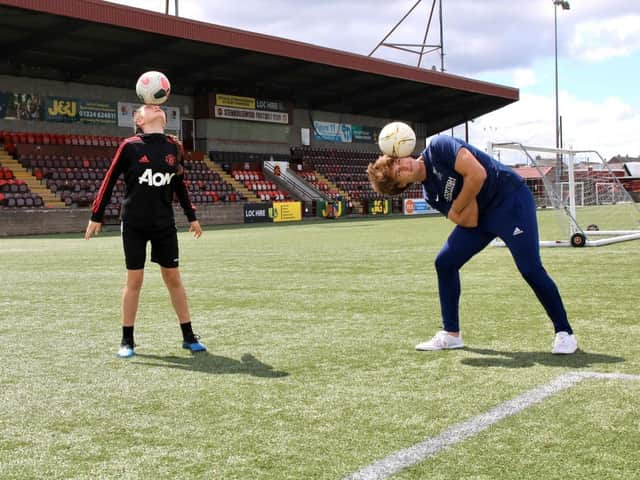 Olivia and Ross shwoing off their freestyle skills at Stenhousemuir FCs Ochilview Park
Olivia, of Reddingmuirhead, Falkirk, rose to the challenge of replicating top tricks featured in an online masterclass by top freestyler Ross Brown.
Her amazing video demonstrating stunts such as Around The World, Next Stall and Crossover came out top as over 3000 voted in the Scottish Building Society sponsored contest. The goal was to encourage the thousands of girls and boys who sign up to the KSA site to stay fit and hone their skills during lockdown.
Olivia celebrated by joining Ross for a one-to-one freestyle training session at Stenhousemuir's Ochilview Park.
Ross, 22, of Stirling, normally spends his days showing off his amazing skills to city centre shoppers or holding classes for children.
Olivia, who practises her skills in her garden every day, said: "The freestylers who entered were all very good … but I'm glad I won. I learned lots of new tricks from Ross's video and it's great practising with him in person."
Ross said: "Every entry absolutely smashed those tricks – it was crazy to see how good these kids are. Olivia has amazing natural talent, but she also works hard at practising her skills and above all, has fun doing so."
https://www.keepscotlandactive.co.uk/Robbie Forsyth, Director of Youth Football Scotland, launched the Keep Scotland Active website to help keep youngsters active during lockdown. He said: "Football freestyle is a fantastic way to help girls and boys stay fit and hone their football skills. As Olivia shows, it requires hard work, discipline and of course, is great fun."
Kerra McKinnie, Marketing Director of Scottish Building Society, said: "We would like to congratulate Olivia on winning our freestyle contest. Encouraging boys and girls to stay active through the art of freestyle is a perfect complement to our continued sponsorship of the Scottish Women's Premier League."