Falkirk supporters asked to help shape future of new fans led organisation
At the start of 2020 a group of Falkirk supporters were asked to bring forward proposals for the establishment of a new fan-led organisation which would operate at arms-length from the Club.
Monday, 25th January 2021, 10:54 am
Updated
Monday, 25th January 2021, 2:12 pm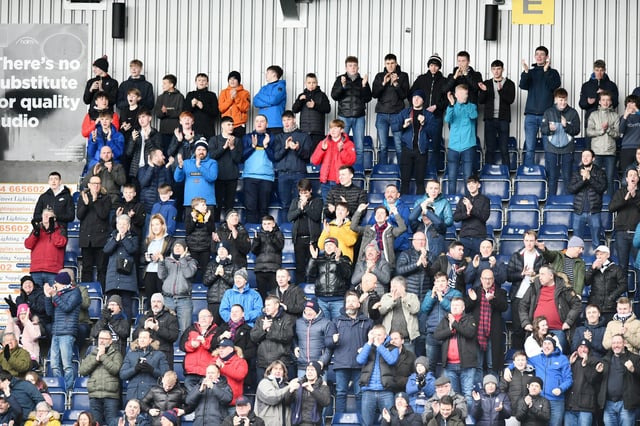 Supporters are being asked to complete a survey which will help shape and launch the new organisation
The primary purpose of this organisation is to be an effective conduit between the club and its supporters but also to allow those supporters to build up a significant shareholding in Falkirk.
With the resolution from last year's AGM, which created the new shares for this group to buy, now ratified the group's first objective is to seek as wide a variety of opinions as possible from Bairns supporters about how they want this group to look and act.
They have already began efforts to re-energise the Falkirk Supporters Society, which had been inactive for some years.
Amongst those currently heading up the group are life long Falkirk supporters Stuart Adam and Lewis Hoggan.
"The ambitions here are fairly high but they're also straightforward," said Stuart.
"We want to build a credible fans body that invests in the club, builds a shareholding and give the club the best advantages possible while also building a legacy that will see and organised fans movement have a real say in the club.
"We also want to have a say to protect the club from the type of owners we had in the 90's who nearly ruined the club, the type of people who tried to get their hands on the club in the last couple of years and also protect the club from within from the sort of decisions that have dragged the club down.
"My opinion is that, had we had this a couple of years ago, we would never have seen the crazy decision to close the club's academy.
"The fans felt a big part of the club's identity was ripped away with that decision and if you had a proper fans director who was accountable to an organisation it wouldn't have passed without a struggle.
"It's also worth pointing out there are other initiatives out there doing other things and those are also really important, such as Equity Bairns, The Crunchie Initiative, Junior and Senior Bairns, Bairn for Life, and many others past and present.
"What we don't want to do is set up a new organisation to compete and that's difficult so we've been talking to all these organisations and the ethos is to act as a platform and use the hard power of regular investment, increasing shareholding, a large membership and board representation to help all these other organisations.
"While the formality of membership will be how we run the organisation we want to present ourselves as a credible voice for everyone because that's where it fell down before, the previous supporters trust had dwindled so much that it wasn't seen as a credible voice for the fans."
Lewis added: "For us to be a credible fans group we need to get the fans opinion, that's why we need as many people as possible to complete the survey to determine what they are concerned about and what they think the model should look like.
"As you generally find that a lot of fans have the same concerns, this group will allow us to collate these concerns and prioritise them, thereby making it easier to address specific concerns, for example by raising money to go towards rectifying issues raised by the fans.
"Someone will also represent this group on the board, which will provide a platform to have all our concerns considered at that level.
"We have the full support of the board for this group so if we don't create a credible fans group now when will we?
"We're hoping to have the fans representative sitting on the board before the end of the season leading in to the new campaign.
"Over 90 percent of people surveyed so far have said they would sign up, some people won't and that's fine but it's still good to get their opinion."
So far the group have worked to re-constitute the old Falkirk Supporters' Society into a Community Benefit Society, the corporate model used by most other similar supporters' organisations in Scotland.
The society's shareholding is still one of the top ten and, importantly, can call on allies amongst members who can proxy their votes which was timely, as the Society's shares were used, alongside many minor shareholders, to pass the recent AGM resolutions.
All existing supporters' clubs and initiatives are being invited to work together to make this effort a success with a vision is to promote fan initiatives and supporters' groups through a website and social media feeds, providing support to Falkirk fans who invest their own time and effort into running their supporters' clubs or campaigns.
The fan ownership model has bwwn proven to work at many other clubs including Dunfermline, Motherwell, Hearts, and Morton who have managed to get an effort off the ground.