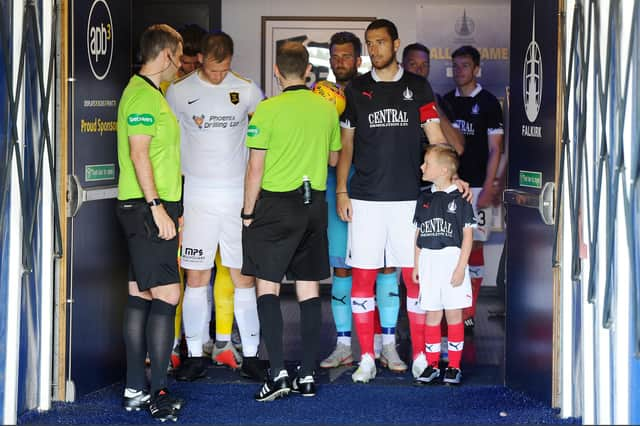 Gregor Buchanan captained the Bairns last season. Picture: Michael Gillen.
The announcement, made on the club's website at 11am this morning, also confirmed the end of loan departures of Declan McManus, David McMillan, Calum Ferrie and Rafa de Vitta.
Goalkeeper Robbie Mutch, plus Robbie Leitch, Morgaro Gomis, Josh Todd, Aidan Laverty and Conor Sammon have contracts to cover season 2020-21 and would remain, the statement said.
The remainder of the squad not mentioned in the briefing will face an anxious wait on their futures with the club adding another short term extension to their agreements until the return to competitive football is clearer and another decision can be made.
Michael Doyle. Picture: Michael Gillen.
However the morning's shock news saw defenders Doyle and Buchanan depart after one year with the club. Between them they racked up 72 matches last season with Doyle missing just 16 minutes of the 37games he played.
Doyle has been a regular feature of lock-down with his home fitness videos aired on the club's social media channels. Buchanan often spoke of his pride at leading his hometown team who he watched at Brockville as a boy.
Also exiting the Falkirk Stadium is fan favourite Louis Longridge at the end of his latest short-term deal, while bit-part players Ian McShane and Denny Johnstone will also depart.
The Bairns' statement said: "Due to the unprecedented impact of the pandemic the club took the decision to extend all player contracts, where necessary to do so, until 30 June 2020. After a full assessment of the playing squad it has been decided that the following players will not have their contract extended beyond that date and will therefore leave the club: Gregor Buchanan, Michael Doyle, Denny Johnstone, Louis Longridge, Ian McShane.
Louis Longridge will alos leave. Picture: Michael Gillen.
"The remaining first team players with contracts due to expire on 30 June 2020 have been given short-term extensions with a further review being made when the return date for competitive football becomes clear.
"The club wishes to place on record its thanks to every player leaving the club for their efforts during their time at Falkirk. It's never an easy decision to release players but each and every one leaves with our best wishes for the future.
"Supporters will appreciate the need to continually review, and adapt where necessary, our playing squad as decisions on league restructuring and the return date for competitive football become clearer. We also remain engaged in ongoing discussions around recruitment for the first team squad and will keep supporters updated as matters develop."
Conor Sammon has a contract to the end of next season. Picture: Michael Gillen.