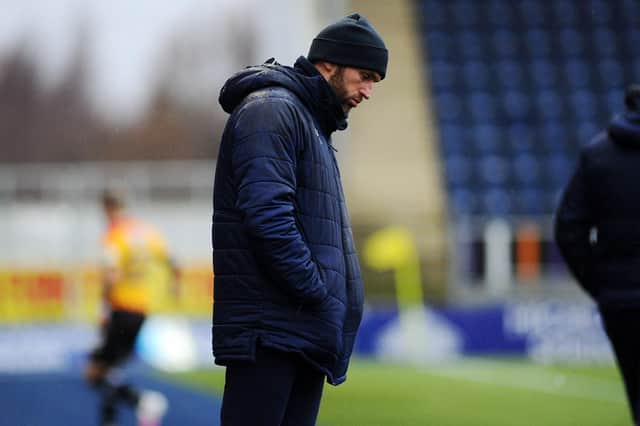 Bairns co-manager Lee Miller will take a point from their Boxing Day fixture with Partick, analyse the game and move on to their next fixture against East Fife on January 2
Speaking after the 0-0 draw, which was also impacted drastically by the wind and rain at the Falkirk Stadium, Miller said they need to aim to win all their home games but that a point wasn't a bad result against the league's other full-time side.
He said: "We want to be taking three points from our home games but I thought it was probably a fair result in the end.
"We weren't at our best although I thought we were great in the first 25 minutes.
"I thought we were the better team first half then they got a grip of the game in the second and the sending off changed that and Partick go and sit in.
"They were difficult to breakdown because they were well organised and have good players but the conditions also came in to it a good bit.
"The players were trying to focus even more when dribbling because it was being blown all over the place.
"It was similar to Airdire last week where we never took our chances when we were on top but it's another point, we're top of the league, we'll analyse the game and then look forward to East Fife."
Despite only picking up one point from their previous two matches the Bairns remain four points clear at the top of the League 1 table going in to 2021.
Miller added that he isn't worried about a drop in form in the squad, who went unbeaten in their opening eight league games, and that they will continue to just focus on each game one at a time.
"I don't think it's bad form, yes we got beat last week but we look at every game individually.
"We have a good squad, a good freshness and we just pick ourselves up and go again.
"We don't speak about winning the league at all, we just take every game as it comes because if we get too carried away we will lose focus on what we're looking to do and that's pick up points every single game."