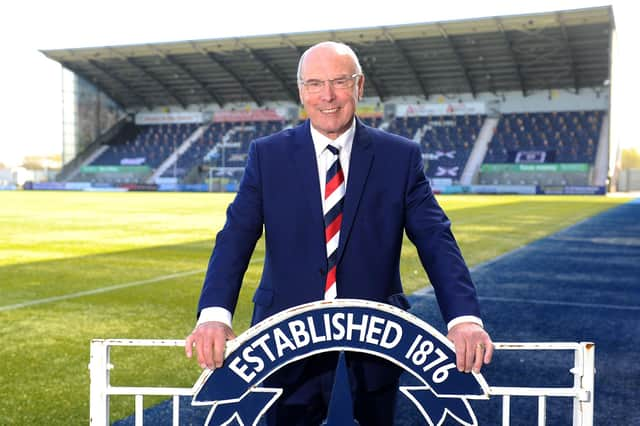 Totten has served Falkirk as a supporter, a player, a manager and in the commercial department. Picture: Michael Gillen.
'Mr Falkirk' will leave his day-to-day job in the club's commercial department tomorrow (Friday) after six decades on the pitch, in the dugout and the office – including 28 years of dedicated service to the Bairns.
Totten (75) will maintain an association with the club of course, as the Bairns' lifetime ambassador, patron of the Falkirk Foundation, and not to mention ardent supporter.
"I've always supported Falkirk since I was a wee boy and I went to all the games. My big hero on the Hope Street terrace was Alex Parker.
Hat's the way to do it: Totten had two spells in charge of the Bairns - leading the team to Challenge Cup success and the Scottish Cup final and semi-final in consecutive years as well as his own manager accolades. Picture: Robert Perry
"I've booked my ticket for next season. I'll be sitting with the Bishop's Chair supporters' club based in Behind the Wall – seat X74.
"The club and chairman say I'm welcome back anytime, but it's always been collar and tie in the boardroom every Saturday. It will be good to go with the punters and enjoy the games from a different view too."
Totten has had many views of the game since he began his professional career as a Liverpool apprentice under Bill Shankly. He later played under the legendary manager's brother Bob at Dundee, then alongside another future legend in Sir Alex Ferguson, and Scotland boss Andy Roxburgh, at Falkirk.
They won the league together at Brockville, a medal Totten still cherishes to this day, and more awards were to follow when Totten made the move into the old ground's dug-out, then into his current role in the commercial department.
Mr Falkirk Football Club, Alex Totten, is retiring after a 28 years association with the club. Picture: Michael Gillen
Those 28 Falkirk years are not unbroken though, between spells as a player and two as manager, Totten was also alongside Ferguson as Dunfermline qualified for Europe and later moved into management at Alloa, taking the club from the worst positioned in Scotland to the First Division within two years. He performed a similar turnaround with bottom-of-the-table Falkirk and left them second in the league 12 months later, to join Rangers and Jock Wallace.
Later in his career he propelled St Johnstone from third bottom of Scottish senior football, into a safe mid-table Premier League club.
But even though he landed silverware in the 1997 Challenge Cup: "My proudest moment was leading my team out for the Scottish cup final in 1997 – the first time in 40 years and it made the club a lot of money.
"The 1997 boys have been on wishing me well since they heard I was retiring – that was a fantastic group and dressing room – I appreciate it all.
"I phoned around 50 people who have helped me and helped the club too, just to tell them and I thanked them for what they'd done over the years.
"I just feel that its the right time - 20 years is a long time. The club has been good to me but I've been good to it too with the amount of money I brought in. I enjoyed the people I've been working with. I've a good rapport with them, and the fans."
There have been tough times too. Totten was in charge when the spectre of provisional liquidation surfaced during that same proud period – and he led the club through with ample backing from the supporters.
"We got £250k for finishing second. The players could have walked out with no wages, but they all stayed and great credit to them.
Totten landed league winners' medals with the Bairns as well as manager of the year awards for his time in charge. Picture: Michael Gillen.
"Donald McGrouther was the provisional liquidator and sent me a great letter which read: 'When they are handing out medals in heaven for those who kept Falkirk FC in business - you will be at the front of the line. I am most grateful for all you did. The turning point of selling the club was winning the payment of £250,000. I often wonder how you managed to inspire the team to necessary victories after I'd managed to depress them every Friday.' Obviously I'm very proud of that letter.
"I thought at one time Falkirk was finished and the key was going in the door, but we all helped to save the club, put it that way, and that should never be forgotten."
From helping secure the club, Totten's also helped it thrive with his commercial role since his 2002 retirement as manager.
"Campbell Christie asked me to stay on and raise money for the club. I've calculated it and think it's over £2m from various golf days, hospitality, sponsors and events over the years – the sportsman's dinners have grown for 20 years now.
"It's a lot of money - but the club has been good to me and I think I've been good in return.
"I'll miss it. I enjoy the people - Kieran, Sharon, Laura, Liam - we worked as a team and that's what it's about. Whether you're the 11 in football or off-the-field, you work together and we did that. You want to show you're the best and take pride in all you do.
Falkirk footballer Alex Totten training at Brockville in November 1970.
"I'd like to thank the fans for what they've done for myself and the club - they've been so supportive and the sponsors too. I've certainly played my part.
"I'm into my golf at Glenbervie and walking, and I'll have time to spend with my family and grandkids Jake and Alexander. I'll leave with my head high."
There's much to reflect on over the coming days and weeks.
"My best time as a player was actually at Dunfermline, the best I played with was Alan Gilzean at Dundee and the best I signed as manager was Kevin McAllister. He was fantastic - great for me and for Falkirk FC - an entertainer. Falkirk's always been my club.
"How lucky can you be when you support them, then play for them, then manage them and work in their commercial department? Not many people can say that."