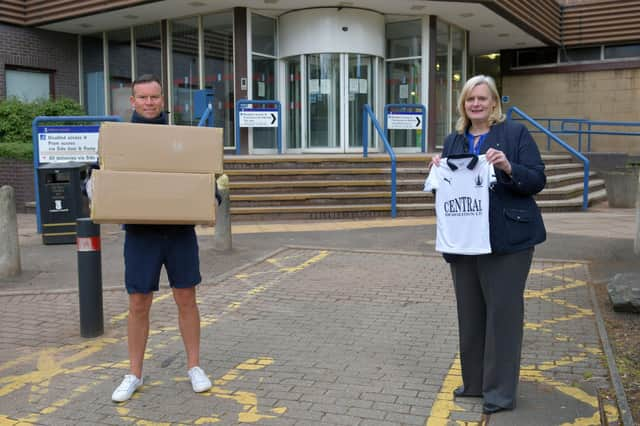 Cecil Meiklejohn accepting a donation of Falkirk FC football strips for kids attending the primary school hubs from Kieran Koszary, Falkirk FC. Picture Michael Gillen.
Commerical director Kieran Koszary dropped the gear off at the Falkirk Council headquarters in West Bridge Street, ahead of it being distributed to youngsters who are still heading into various primary school hubs around the district.
Although home schooling is being carried out during the pandemic restrictions, children of key workers and those from other specified backgrounds are still being educated in class.
And they can now do so wearing the colours of the Bairns.
Kieran Koszary said: "As a club we are continually trying to support the community during these unprecedented times. Falkirk Council are doing a great job by continuing to educate children whilst their parents are performing key worker duties and we felt it was fitting to give the kids a small gift from the football club."
Mr Koszary handed over almost 100 strips to the council.
Falkirk council leader Cecil Meiklejohn said: "A huge thanks to Falkirk Football Club for the generous donation of club merchandise for primary school children of essential workers attending our hubs.
"It's a lovely gesture and is greatly appreciated during these challenging times."