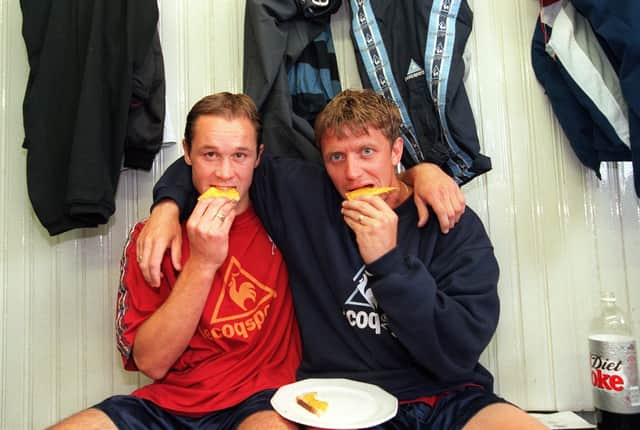 Mystery Picture: Who are these Bairns tucking in to toast at Brockville in 1998?
MONEY, MONEY, MONEY: There is mounting evidence that money allegedly changed hands when Qatar was awarded the 2022 World Cup. Incredibly, one so-called legal expert quoted a precedent when a contract had been awarded -even though corruption was proved and found to be decisive in the awarding of the contract. It could go ahead as it was a long time ago and would be hard to undo retrospectively. Whit?
WHO RUNS FOOTBALL CLUBS?: The "Donate A Ticket" website, founded by Raith fan Ruaridh Kilgour, is interesting, but again raises fundamental issues about the respective roles in football clubs. Fans are the constant sources of funding for their clubs and are asked to buy tickets, merchandise and souvenirs as well as support hospitality and other events. What next- a Fundraising League?
DOH !: What on earth did Jose Mourinho think he was doing by taking an impromptu training session with Tanguy Ndombele in Hadley Common in Barnet? He is hardly a shrinking violet and in the era of mobile phone cameras, was it really wise to be wearing a Spurs tracksuit? The Special One might be earning a new title- The Stupid One.
ANSWERS: Last week's mystery player was George Graham.
THE STADIUM OF ENLIGHTENMENT: The "Sunderland 'Til I Die" series was a fascinating look at the workings and machinations of a professional football club. There was a good balance of match action and behind- the- scenes footage. What was obvious was the ridiculous number of 'management' posts, and you could only guess at the salaries some of them drew. The fanatical Black Cats fans were easily persuaded that Stewart Donald was their latest saviour, although the Oxford United fan soon realised that it was taking its toll and sought a new buyer - enter Mark Campbell for a cameo. The role of the Executive Director Charlie Methven was scary in the extreme. It showed the best and the worst of modern-day football. Compulsive viewing.
READ MORE: The familiar Falkirk faces in Netflix Sunderland documentary
WHAT DO THEY KNOW?: The Australian Rugby League intend resuming their games on May 26. Do they have inside knowledge? Are we facing summer football in this country in a couple of months' time? Last week we mentioned the Summer Cup- and who knows it might make a come-back.
SHIRE STALWART: Sad to hear of the passing of Alex Forsyth a great Shire man in a nice piece from Ross Strang in last week's edition. The Shire team picture reminded me of one in the Daily Express set issued in the paper at the start of the 1956/57 season. The players seemed to be wearing kit from the 1930s with lace- up collars. Several Falkirk fans went to see Shire when there was no game at Brockville, and Alex and Davie Forsyth were among those who were fondly remembered.