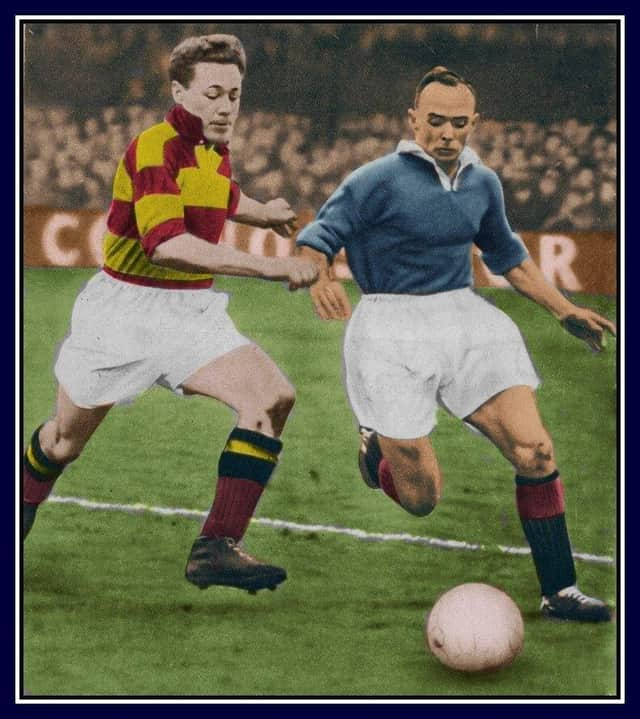 MYSTERY PICTURE: Do you recognise these players?
FALKIRK LOSE OUT AGAIN: Older Falkirk fans will not have been in the slightest bit surprised at the current shambolic decision-making processes, backstabbing, intrigue, conspiracy theories that have emerged from last week's goings-on in Scottish football. Just when fans felt that there was a genuine chance of looking seriously at reconstruction, it emerged that there was no chance that the idea would clear the first hurdle. Falkirk were one of the losers- yet again- in the pathetic attempts to run the game in an open, transparent, and principled manner. Those running the SPFL should hang their heads in shame.
EMERGENCY ACTION NEEDED: This crisis calls for cool heads, calm reasoning, and impartiality- and a big helping of common sense. There are no parallels. The nearest we have would have been wartime football. Threats of imminent disaster, a frightened population, transport disruption and people losing their lives made all the headlines, while many saw Football as an irrelevance. The leagues were abandoned, and as we said before- Falkirk were in a strong position challenging Rangers for the title. Leagues were redrawn and new structures were introduced in cup competitions. Some clubs chose not to play during the war years, and only took part once hostilities were over.
THE SECRET SIX: Who said what, when, to whom and was it recorded? The search for naming and shaming continues a-pace and Radio Scotland's pundits did the needful when they called out St.Mirren, St.Johnstone, Ross County, Hibs, Dundee United and Aberdeen as those who were against reconstruction. It was apparently doomed from the start; whatever gloss was put on it and the self-preservation society duly avoided becoming the turkeys voting for Christmas.
DROP US IF YOU DARE: The backlash from Tynecastle quickly emerged with threats of legal action and an appeal from the Hearts shareholder and QC Leslie Deans to all Hearts fans to fund a legal challenge. Yet again- the poor long- suffering fans are being brought into the picture when money is needed.
WHO DID WHAT WHEN?: Did Brechin really try to sound out the chances of a place in the Lowland League rather than the Highland League? A trip to Berwick or a visit to Fort William? What vested interests did some of the members of the reconstruction panel have? Why did Hibs bale out of the same panel so early in the process? Who triggered the Deloitte investigation? There are still so many questions to be answered.