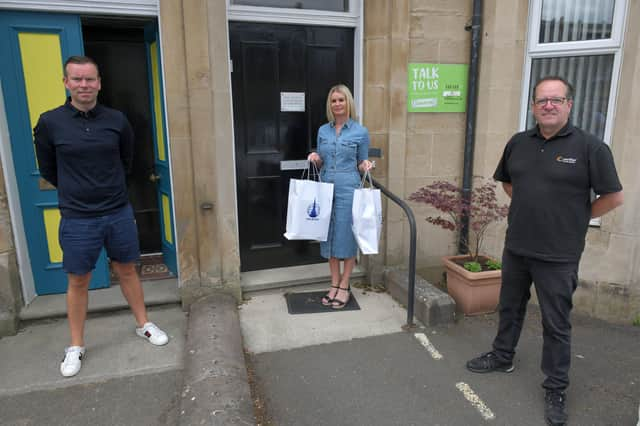 Falkirk FC presenting player of the Month for May to local hero Vikki Louise Wilson, Falkirk and Central Scotland Samaritans branch director. Pictured with Vikki Louise are Kieran Koszary, Falkirk FC and Stuart Comrie of Verifier Security Systems, Player of the Month sponsor.
Branch Director Vikki Louise Wilson said: "We are overwhelmed by being named as heroes for the month of May by FFC and Verifier. The sweets, treats and drinks will be greatly welcomed by the volunteers whilst they are on shift.
"We have around 80 volunteers in Falkirk branch and each of them are greatly precious, without their commitment the service could not happen.
"Thank you to the club for their continued support."
Kieran Koszary represented Falkirk FC at the presentation and was joined by Stuart Comrie from sponsors Verifier, handing over goodies and gifts for volunteers to acknowledge the work they are doing in the community during this difficult period in lockdown.
The club will also give each volunteer a free match ticket for a game of their choice next season when football restarts.
Stuart Comrie of Verifier added: "Verifier security systems congratulate the Falkirk team at The Samaritans."