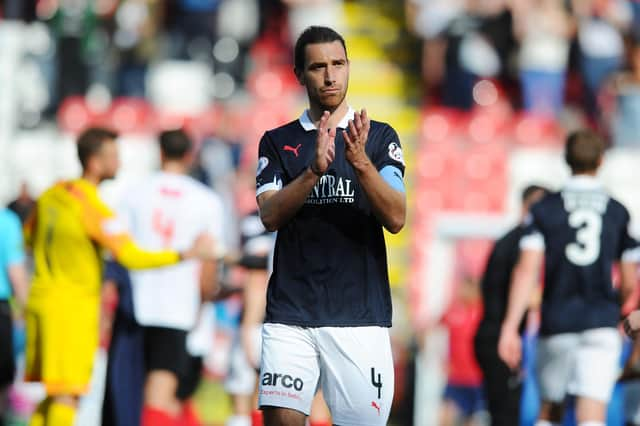 Gregor Buchanan. Picture: Michael Gillen.
Falkirk captain Gregor Buchanan has had a mental image since joining the club of being a league-lifting Bairns captain.
That picture he'd painted in his head was ripped away from him, and his team-mates and fans of the club when the league clubs voted to end the season last week and hand Raith Rovers first place in League One.
Now, a week on from the disappointment, he and his Bairns team-mates are hoping reconstruction talks shed more light on an uncertain time for footballers, with so many unknowns in society.
Gregor Buchanan collision with Ryan Tierney results in a broken nose for the Falkirk captain. Picture: Michael Gillen.
The 30-year-old told The Falkirk Herald: "It's such an unknown time we're in, you didn't know when it might end or what conclusion would be reached. The one they have come to is disappointing from our point of view because we were pretty confident we were going to win the league. For that to be taken away from us with a quarter of the season to go is pretty tough to take.
"It was entirely in our hands and were confident we would get the job done and in a good place.
"I'm local and I know what it would mean, and that not many captains have lifted a league title. I had that desire and that's been taken away from us all at the club.
"As soon as I was told I was captain it was one of the images in my head - this was a great chance that very few Falkirk players have been able to do and I thought we would do it. For that it was another kick in the teeth to have that taken away because there was a burning desire going in to every game to reach that end goal."
Gregor Buchanan, Falkirk captain. Picture: Michael Gillen.
There was anger amongst the Bairns players privately and some frustrations were aired cautiously on social media too when the decision was announced last Wednesday. Falkirk were just one point off the top, with a superior goal difference and a meeting with the Kirkcaldy side to come.
Buchanan added: "I think if we play out the season, and we didn't manage it then we'd only have ourselves to blame and would reflect on where it went wrong. But for the way it has transpired is obviously more frustrating and disappointing.
""When it comes to 0.04 points average in it. We could mull over the first three quarters of the season but you'd drive yourself insane - we had a quarter to go, and its such a fine margin literally a goal either for us or not conceded in some cases, from having a title, on paper.
"It's easy for us to say but I still don't think it would feel like a winning championship but they've called it now and every club has to deal with it now.
Buchanan would present his captain's armband to a young fan after each game. Picture: Michael Gillen.
"Contracts and all sorts are all up in the air while the reconstruction talks go on and hopefully they fall for Falkirk because the league hasn't gone for us so far."
When Saturday comes and the Bairns are re-running old games to fill the void it's worse for players who just want to get back out and play, the captain added.
"We've got to keep ourselves ticking over and there have been some 5k challenges being thrown around the Whatsapp group but when you see the fixture list each Saturday and where we could be playing – you just want to be back out there playing. Everyone is missing the dressing room, training and games but there are a great many in worse positions than that so it's just a case of staying fit, staying healthy and waiting it out.
"We can't have a three or four month summer - you need to keep some semblance of fitness to enure we're ready to get back to work for pre-season whenever it comes around and we can't be too far behind. But there's so much unknown, it's hard when to prepare for football and normal life and you just hope everyone is staying healthy and we can get back to work when it's safe to do so."