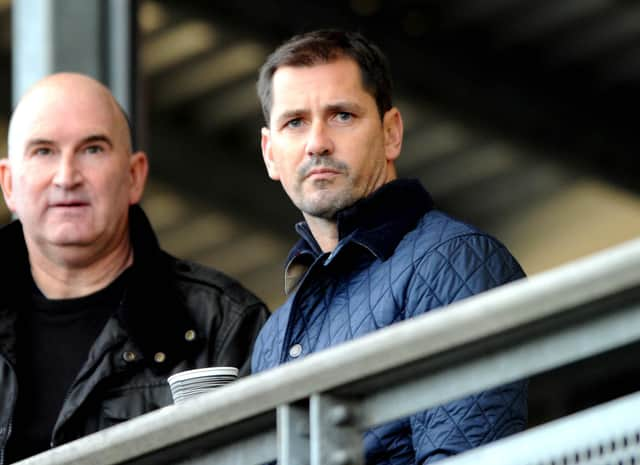 McNamara played 53 times for Falkirk. Picture: Lisa Ferguson
After collapsing at his north Yorkshire home in February, the Scotland international was rushed to hospital where he was treated for a brain haemorrhage with emergency surgery.
Now recovering back at home he issued an update video last month and has spoken about his experience with our sister title The Scotsman.
McNamara, who played for the Bairns between 2008-10 including the 2009 Scottish Cup final defeat to Rangers, said: "I know how close I was to death. Now and again, I still get a bit emotional about it.
"I've thought about Davie Cooper a lot – I know he passed away from the same thing which happened to me. He wasn't as lucky as I have been in surviving it.
"I was lucky my wife Sam was beside me and was so quick to call the emergency services. Fortunately, there were paramedics nearby to our house in Malton at the time.
"Within five minutes, they were with us. Had they not been as close by as they were, I don't think I would have made it. They got fluids into me and got me to hospital in York. So feeling lucky is the biggest emotion I have right now – 100 per cent. I know I was struggling, I know how touch and go it was."
After a diagnosis at York Hospital, McNamara was transferred to a specialist unit in Hull. His recovery has not been straightforward and he has had to return to hospital twice but has been told he doesn't need further surgery.
McNamara has managed Partick Thistle, Dundee United (pictured) and York City.
"Immediately after the initial operation, when they had to put me into an induced coma, they told Sam I might not wake up," he added. "My outlook on things has definitely changed. There are things in life you can take for granted. I felt I was as fit as any 46-year-old and then this happened to me. So it's given me a different outlook on life, on being happy, on appreciating your friends and family and not worrying about things which would have bothered me before."