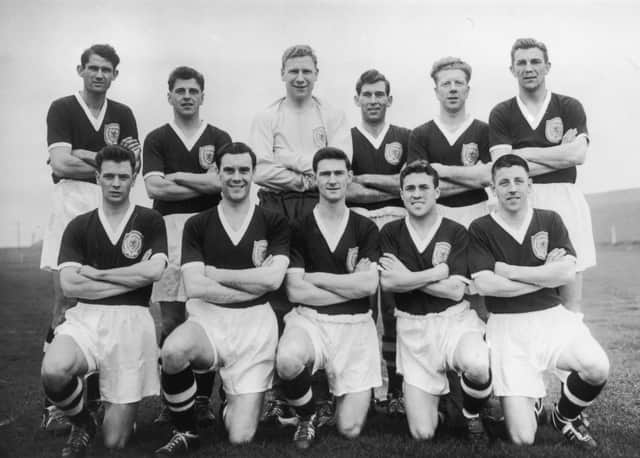 The Scotland football team set to take part in the World Cup in Sweden, 13th May 1958. From left to right, (back row) John Davidson Hewie, Eric Caldow, Thomas Younger, Edward Hunter Turnbull, Robert Evans and Douglas Cowie; (front row) Graham Leggat, James Murray, John Knight Mudie, Robert Young Collins and James John Stewart Imlach. (Photo by Keystone/Hulton Archive/Getty Images)
Falkirk players HAVE played for Scotland since the war- Alex Parker on 14 occasions, John White in four matches and latterly Darren Barr played one game.
Bobby Campbell might be added to the list, but there is a debate as to whether he was a Falkirk player or a Chelsea player when he won his first two caps in 1947. But the list could have been much longer, as several Bairns were involved in trial matches for the full national team. Ian Rae played in an "unofficial" match for Scotland, as did Bert Slater.
The various trial matches gave selectors an opportunity to run the rule over prospective caps. Javvo Davidson was selected to play against Kilmarnock at Rugby Park in November 1954 after only a handful of senior games for Falkirk. There were no Falkirk players selected for the second trial match against Hibs, but there were no fewer than four picked for the game at Easter Road against a Scotland A team.
Venue: Easter Road, Edinburgh
This game should never have been played as Easter Road was covered in snow and the surface underneath was frozen solid. Only 7,000 turned out on a bitterly cold night and it is doubtful if the selectors learned a lot. Falkirk had drawn 4-4 with a Scotland team at Brockville in November 1954, and some of the Bairns really impressed the watching selectors. Sammy Taylor, Bobby Morrison and Javvo Davidson were all given a chance to impress in the B team as was Alex Parker. The diminutive Javvo had been given a game against Kilmarnock in the first trial match of the season and set up a goal for Ian McMillan with a clever back-heel. The Airdrie inside right had been selected for the A team in this game and by half-time, Paddy Buckley had scored twice to give the A team a lead they deserved. It was the injury to McMillan in the second half that turned the game. No substitutes were allowed in those days and the B team came more into their own. A blizzard was blowing, and the game could easily have been called off. Scotland B eventually won 3-2 against the 10 men and Javvo Davidson scored twice with St. Mirren's Tommy Gemmell adding the other goal.
Billy Liddell looked to be past his best, and Docherty and Cumming were clearly outshone by the B team's Neilson and Glen. The outstanding player on the night was Alex Parker and he looked every inch an international prospect even in these terrible conditions. Parker was to be a Scotland regular, but none of the other Bairns were to feature in the full side.
SCOTLAND A: Martin, Little, Haddock, Docherty, Young, Cumming, McKenzie, Johnstone, Buckley, McMillan, Liddell.
SCOTLAND B: Niven, PARKER, Smith, Neilson, Malloy, Glen, TAYLOR, MORRISON, DAVIDSON, Gemmell, Fernie.
Fast forward to 1958 and an upcoming World Cup Finals in Sweden. The selectors were keen to field a strong team and arranged a big trial match at Easter Road on February 3 between Scotland and a Scottish League side. The attendance was an amazing 45,000 to see what was classed as an "official" trial match.
Venue: Easter Road, Edinburgh
There was a large crowd at this game, no doubt many of a maroon persuasion, with the Hearts inside trio of Murray, Young and Wardhaugh in the league line-up. It was Jimmy Murray who scored the opening goal after only eight minutes, when he headed a MacKay cross past Younger. It was anything but a trial match as the tackles were fully committed and no quarter was asked or given.
Jackie Mudie equalised for the Scotland side ten minutes later when he converted an Imlach cross and the half-time score of 1-1 was about right. Dan Currie put the Scotland side 2-1 up, again from an Imlach cross. There was a loud cheer from the Hearts fans when Alex Young equalised within five minutes, heading home a MacKay cross to set up a great finishing spell. Four headed goals and some clever and skilful play ensured the big crowd were kept entertained. What proved to be the winning goal was scored in 63 minutes through Stewart Imlach who was the find of the evening. The Nottingham Forest winger looked a great prospect and, on this display, must have almost booked his seat on the plane for Sweden.
Alex Parker was solid in defence and kept East Fife's Andy Matthew well in check. Jimmy McIntosh looked comfortable facing Alex Scott and was well worth another run out. A serious knee injury ended the Bairns player's dream and only Parker made the final squad.
SCOTLAND XI: Younger, PARKER, Caldow, Docherty, Hewie, Cowie, Scott, Currie, Mudie, Baird Imlach.
SCOTTISH LEAGUE: Brown, Kerr, McINTOSH, McColl, Evans, MacKay, Collins, Murray, Young, Wardhaugh, Matthew.
Referee: G. Mitchell Att: 45,436
Our last trial match was perhaps the most incredible of all and creates a great trivia question for Falkirk supporters. Which Falkirk player once scored THREE goals against Scotland?
Venue: Ibrox Park, Glasgow
A young Falkirk player was the star of this incredible match and completely outshone Bobby Collins of Celtic in the Scotland side. John White had scored twice in the first 20 minutes in what must have been a sensational start to any match. His first came after 13 minutes when he took advantage of a pass from Thistle's Andy Kerr and the second six minutes later from close range after a Jimmy McEwan corner kick. There was plenty of talent on show and Celtic's John Colrain converted a cross from Alex Scott one minute later to reduce the arrears. When Davie Mackay hit a great 20- yard volley past Jock Wallace in the League goals it looked like the more experienced side would gain the upper hand. Mackay added his second goal seven minutes before the break to make it 3-2, after the impressive Alex Scott had beaten Hugh Baird.
Parker, then of Everton, was instrumental in setting up Colrain who beat Wallace all ends up with a cross-ball which deceived the Airdrie keeper. With Scotland 4-2 up many observers expected a glut of goals to increase the lead.
They certainly got a glut of goals but not the result many had expected.
Andy Kerr scored with a header from a cross by White to make it 4-3. Play was swinging from end to end and it was no surprise when John White equalised to make it 4-4.
He followed up after Bill Brown failed to hold a shot from Bert McCann. It had been a great display and a well-taken hat-trick.
Two minutes later Kerr scored his second when he put away a cross from Jimmy McEwan. Back came the Scotland team and Colrain scored his hat-trick when a shot from Alex Scott came back off the bar to leave Wallace helpless. It was a case of "next goal's the winner" and both teams gave it their all. What proved to be the winning goal came in 82 minutes, when Andy Kerr became the third hat-trick scorer.
SCOTLAND: Brown, Parker, Caldow, Cumming, Evans, MacKay, Scott, Collins, Colrain, Gibson, Leggatt.
SCOTTISH LEAGUE: Wallace, McKay, Baird, Smith, McCallum, McCann, McEwan, WHITE, Kerr, Gray, Ormond.
Referee: T. Wharton Att: 40,000

John White was a clear favourite to win a Scotland cap and he made his debut against West Germany at Hampden Park on May 6. In front of a crowd of 103,415 he made an incredible start and scored after only a minute. Scotland won 3-2.
In the1950s, Falkirk players were selected for their country at Under-23, B and League International levels, and there were others over the years who should have been considered.
Maybe if trial matches had continued, Kevin McAllister and Scott Arfield might have been added to the list.