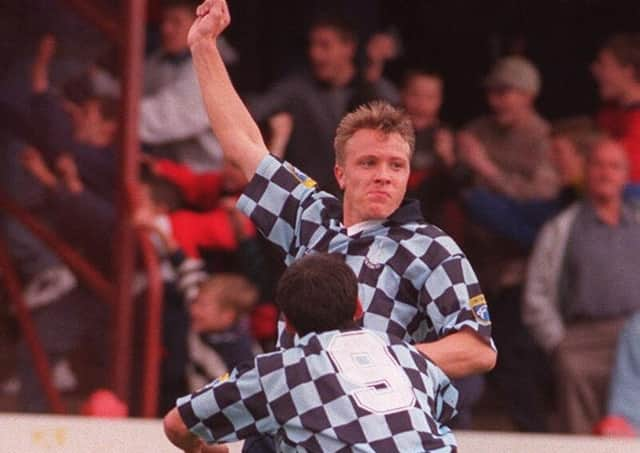 David Hagen celebrates Falkirk scoring at Brockville.
Though both later playing for Hearts and Falkirk, they didn't share a dressing room again, but Elvis remembered the teenager from Grahamston boys club making his mark on the Rangers reserves and first-team during an epic era they shared at Ibrox in the 1990s.
Both were involved in Rangers incredible run to the brink of the European Cup final, in the first ever Champions' league group stage.
Steven Pressley played alongside Hagen at Rangers. Both would have different spells with Falkirk and Hearts. Picture: John Devlin.
"We were together right up from under-14s to the first-team, though David was a year older than me," Pressley told The Falkirk Herald this week. "It was David, myself, Neil Murray and Lee Robertson pushing into the first-team at that time.
"He was a happy-go-lucky person – but he had some steel in him. He had to, to survive and then play in that environment. You learned how to win at that time at Rangers and in that dressing room.
"He was a great player and great company – we'd often visit supporters functions together and there are a few stories from them! David was intelligent too – but he was so funny with some of the things he did when he didn't show common sense. He was great company socially and a great team-mate."