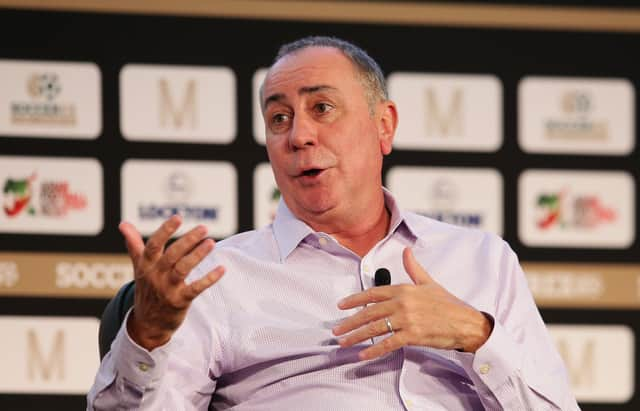 Phil Rawlins, Orlando FC/Orlando Pride President talks during day 2 of the Soccerex Global Convention 2016 at Manchester Central Convention Complex on September 27, 2016 in Manchester, England. (Photo by Daniel Smith/Getty Images for Soccerex)
Falkirk will welcome the founder of MLS side Orlando City onto the Bairns board.
Phil Rawlins, along with wife Carrie, have invested a six-figure sum into the club in return for more than a quarter of the club.
Falkirk FC. Picture: Michael Gillen
Mr Rawlins, based in Colorado, is also a former director of Stoke City, his hometown club and has spent recent years consulting with clubs and leagues across the world.
After reaching the agreement in principle with Falkirk he said: "For several months we have been looking at clubs across Europe, and particularly in Scotland, who share our ambitions and are aligned with our views on how to advance a community centric football club.
"Considering Falkirk's size, history and fanbase we recognise the club has been underperforming in recent years and we believe we can offer the financial impetus, network and expertise to help take Falkirk back to the Premiership.
"Since our first interactions with the board we have been extremely impressed with their leadership and vision for the future of the club. We see a solid plan for transformative change in place at Falkirk and a very loyal, passionate, and dedicated fanbase. Falkirk has excellent infrastructure and huge potential. We are excited to invest along with the fans and play our part in the revival of Falkirk FC.
"While it has been challenging to do all our due diligence against the ongoing backdrop of a pandemic, we feel both confident and comfortable that Falkirk is the right choice at the right time. We are eager to see the formalities completed and get to work alongside the other Directors at the Club. We believe Falkirk has a very bright future ahead."
In a statement Gary Deans outlined several other changes for the Bairns – including more mention of a youth development structure at the club.
Mr Rawlins has a youth football background from his time at Orlando where the he club built a network of over 2,000 boys and girls across Central Florida.
Mr Deans also stressed though that, although the Rawlins had agreed to take 26 per cent of the club, the Bairns are NOT up for sale and the Rawlins do not intend to take a majority stake in the business.
He added: "There remains work to do to finalise this deal and we will keep you updated. As a board, we believe the changes outlined above will set a solid foundation for the Club. The immediate priorities are clear – promotion to the Championship whilst managing the finances closely through this difficult period.
"Our ambition is to be a successful, well managed, top-six Premiership football club recognised for playing attractive football with a blend of youth and experience."