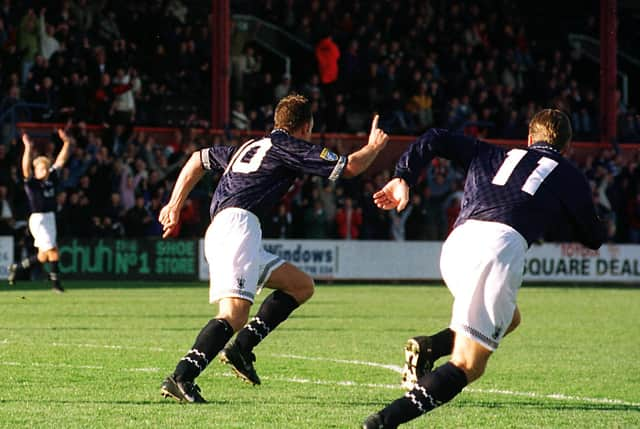 David Moss and David Hagen celebrate a Falkirk goal against Dundee.
Football fans from across Scotland pitched in to Falkirk's 50-50 weekend draw – and raised a cash prize for Motor Neurone Disease Scotland.
The Bairns pledged to donate their split of the weekly half-time draw to the charity in tribute to their former midfielder who died after battling the disease for more than two years.
And the prize pot saw £3267 go to winner Julie Scott and the remainder transferred by the club to the charity following the Falkirk TV re-run of the team's win over Dunfermline in 2014.
Commercial director Kieran Koszary said: "We would like to thank the fans once again for their phenomenal support on Saturday to raise funds for a wonderful cause.
"David was highly thought of by everyone and after consulting the family we felt it was fitting to donate our share to MND."
David Hagen fires the ball past Dunfermline keeper Ian Westwater for a Bairns winner at Brockville.
David Hagen, ex-Bairns midfielder diagnosed with Motor Neurone Disease MND, died late last month.