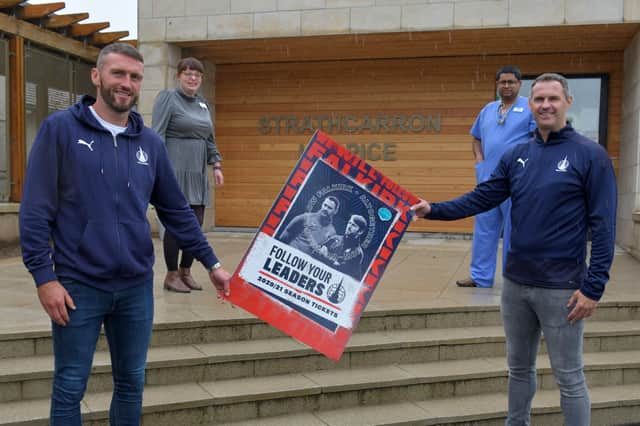 Lee Miller, Falkirk FC manager; Margaret Morgan, Strathcarron Hospice fundraising finance assistant; Dr Tapajauti Chaudhury, hospice physician and David McCracken, Falkirk FC manager launched the season tickets for the new campaign. Picture: Michael Gillen.
The Bairns have been able to make plans with a greater degree of certainty after the SPFL confirmed a League One start date of October 17.
Packs will detail two options available to supporters, with the new campaign reduced by a quarter to 27 regular season matches.
The Bairns will offer a regular full-priced season ticket – and will pledge a portion of this payment to long-term charity partners Strathcarron Hospice.
An alternative priced season ticket will also be available, reflecting the 25 per cent reduction in games within the price.
While the start date has been certified, Falkirk don't yet know if supporters will be allowed inside grounds when the league kicks off in October.
Supporters buying season tickets have also been warned that social distancing may make it impossible for their 'regular seat' preference to be fulfilled - if supporters are allowed in the grounds at all under the guidelines.
If matches are played behind closed doors, season ticket holders will be granted access to Falkirk TV to cheer on the team from home, but the club is staying in-line with Government guides.