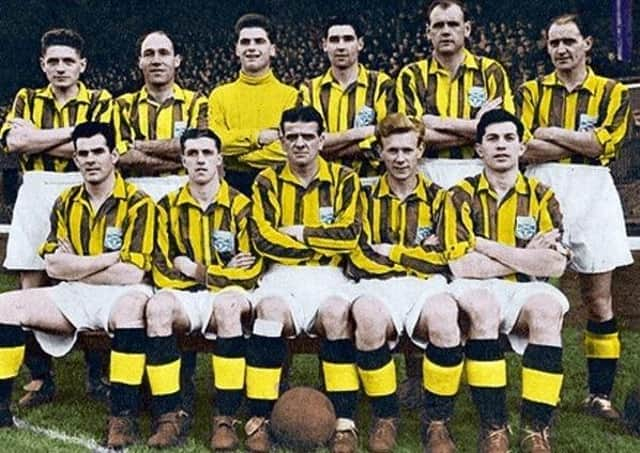 What is the Falkirk connection in the team above?
SAD NEWS: Another link to the great 1957 side has gone. We were all sad to hear of the death of Nan Merchant, wife of the late George Merchant, who sadly passed away in South Grange Nursing Home, Monifieth on April 29. Nan was a lovely lady and always spoke highly of Falkirk and her great memories of the unforgettable 1957 Cup win.
She always wore George's winners medal round her neck as a necklace and was great company at the reunion dinner in 2007. The young Nan Rennie had been a nurse at Aberdeen Royal Infirmary when George and she married in 1952. They had three children Allyson, Graeme and Neil. Through time, the Merchant clan increased in size, with grandchildren and great grandchildren and the gathering to celebrate George's 90th birthday was quite impressive.
Clearly, due to the current situation, the funeral service will be private and I'm sure that those older Falkirk fans would wish to send condolences to Nan's family.
PRIORITIES: With a daily death toll that shows little sign of abating, and the current crisis in our care homes, it is unbelievable that league reorganisation in Scotland is seen as THE biggest issue facing us. Hours and hours of discussion on the airwaves would lead you to think that the nation has lost a sense of perspective. The biggest health and economic crisis in our lifetime and we are discussing whether or not we have to play football?
ANSWERS: Last week's picture was a St.Mirren team which featured a natty line in shorts. The Falkirk connection was Roy Kemp who was on the extreme right of the front row. Roy was signed from Camelon Juniors and was usually an outside left. He moved to Carlisle United after leaving Brockville.
VOLUME FIVE: Thanks to Falkirk fans who have downloaded the e-book and donated to Motor Neurone Disease Scotland. We had hoped to be able to make a £1,000 donation to the charity and at the time of writing we are half-way there. Once we return to normal and printers and suppliers are back at work, there will be a limited- edition print run. Those who have already ordered a hard copy will be first in the queue.
DESERT ISLAND GAMES: Younger fans were keen to see the 6-1 win over Dundee United included in the list.