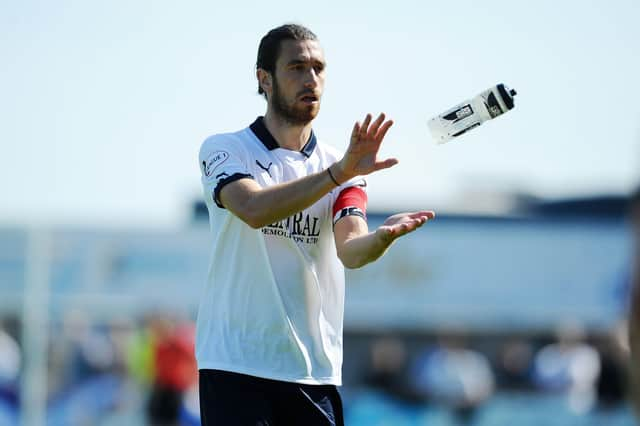 Gregor Buchanan captained Falkirk in 35 games last season. Picture: Michael Gillen.
He lived out his football dream – and that of his fellow Falkirk fans – in turning out for his hometown team.
A second bite at a career in navy blue after a release as a teenager, he grapsed the opportunity to play for the Bairns with both hands when the opportunity arose last summer, leaving Morton in the Championship for a crack at the League One title, locally.
But though bitterly disappointed by his exit from the Bairns, the defender is still immensely proud of his time captaining the club to what could have, and should have, been a successful campaign in League One.
"The fans were great with me and I know I've lived out their dreams, and my own, in playing for the club," he told The Falkirk Herald. "A lot of people would give a lot to be in my position and I'm proud to have done so and of my time with the club.
"I look at it as I played a massive part in taking the club to the position it was in when everything ended. Three quarters of a season played we were still on course to do what we had set out to.
"We had one of the best defensive records in Britain. When I look at my own stats, I played 90 per cent of the games and I'm pleased with how it went – we'd have liked some more points on the board but we were in position to achieve our aims.
"Nothing can take away the chance I had to go and play. It was a no-brainer for me but the disappointment for me is that I made a big sacrifice coming from a Championship team where I had a contract option of a year and I committed to the club in League One, and I bought into what was being worked towards here.
Captain Gregor Buchanan with Falkirk fans at the end of the game. Picture: Michael Gillen.
"The armband thing was to put smiles on faces. I'd have loved that as a 10-year-old fan. I gave a lot of my time off the park to help the club in every way possible and the way it's ended, it just leaves a bit of a sour taste. I'm bitterly disappointed."
The shock of the season ending abruptly, then promotion and a potential league title being taken away was compounded when Buchanan was told he was being taken off furlough and released at the end of June – weeks after representing the players in talks with the club.
That experience casts a shadow on his time, but still his pride at being a Falkirk player remains, and his admiration for the people behind the scenes, and the fans who supported him, continues.
He added: "When you go to clubs you meet volunteers and helpers behind the scenes but I have never met so many as I did at Falkirk just working to help out the club, it's quite incredible how many good people are volunteering there, and they deserve a bit more credit. The fans were fantastic with me too.
Gregor Buchanan. Picture: Michael Gillen.
"The photographer Gordon Whyte has been posting older match pictures online, and it takes me back to games I was at – nice memories.
"If you'd have told me then as a supporter I'd have had a chance to do as they were doing and play there, I'd have jumped at the chance, and I did.
"The way it ended has soured things a bit but when I got the call there was only one place for me, no-one can take that away from me, and it'll stay with me forever."
Gregor Buchanan hands over an armband at full-time. Picture: Michael Gillen.
Gregor Buchanan. Picture: Michael Gillen.