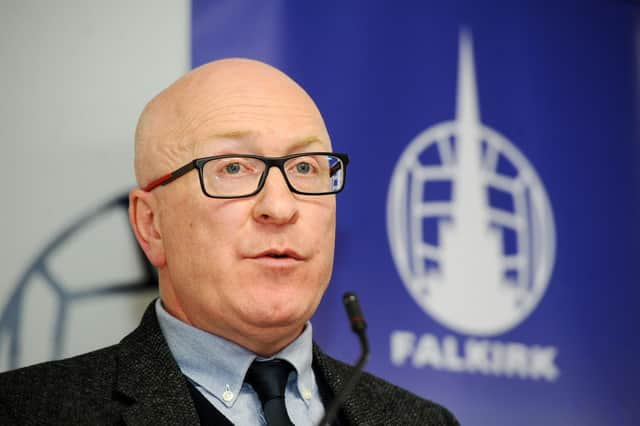 Gary Deans, chairman. Picture: Michael Gillen.
"When I took over as Falkirk chairman back in December 2019 it was a tremendous honour. As someone who watched Falkirk as a boy and continued that support through adulthood I've seen many highs – and the same number of lows.
"We all know the huge potential that this club has and when I accepted the job of Chairman I knew it wouldn't be plain sailing. Yet, even in my wildest dreams, I could not have predicted the events that are unfolding just now.
"I want to use this opportunity to tell you about my experiences and dealings with the SPFL, other clubs and the wider football community over the last few weeks. In doing so, I hope I can put to bed some of the speculation, conjecture and conspiracy theories that have dogged this process.
"Firstly though, I think we need to set some context. This is an extremely challenging time for everyone. People have lost lives, people have lost livelihoods and families have been kept apart. In such difficult times football falls down the list of priorities.
"As a football community we should all regret the circus that has enveloped Scottish football recently in so much that it has taken away the attention and focus from the people who really matter– our NHS and other front line workers and all those who are still going to work as provide us with the essential services we rely on.
"But through these difficult times, as I've said before, football remains the light at the end of this dark tunnel.
"However, if it were not clear before, it is now - the reputation and integrity of Scottish football is badly damaged.
"What I hope you will recognise is that, as a club, we've tried to keep you informed as much as we can in what is a very fast moving and fluid situation. You may not always like what we've had to say but it's important you understand the thinking behind the decisions we make. "Turning to the SPFL resolution, I am furious at how things have turned out but also at the process used to arrive at decisions. At times the information provided by the SPFL could be described as disingenuous at best. Being angry at a process is all well and good however and we had to decide how best to represent Falkirk FC's interests. The decision was taken to move on to the next stage - pressing hard for league reconstruction.
"The SPFL's decision to roll up complex decisions such as payments to clubs, the ending of the league season and league reconstruction into one single resolution was entirely wrong and in my view a contributing factor in the public fallout we have all witnessed.
"In all my discussions with the SPFL and other clubs I reiterated the need to separate these decisions out individually and to seek agreement on each in turn. In my view we could have reached an agreement on financial payments very quickly and used that as a springboard onto other more complex matters.
"Releasing financial payments early, introduced via a separate SPFL resolution, would have alleviated some of the short term cash flow concerns that some clubs had and would have allowed them the breathing space to consider issues such as ending of the league season or league reconstruction in a more relaxed environment. Sadly, that was not to be.
"Turning to the vote itself, we were vocal in our opposition to the SPFL resolution and came under intense pressure from the SPFL and other clubs to support the motion. We vehemently resisted that pressure as voting 'No' was entirely the right approach for Falkirk – we will never apologise for, or waiver from acting in the best interests of our club and you, our fans.
"Unfortunately over 80% of clubs in Scotland did support the motion and in a democracy sometimes you have to accept a decision that you did not support. I appreciate the anger of some supporters that our reluctant acceptance of the decision was seen as letting the SPFL off lightly but as a board we need to make a calculation on which battles we can win, and which we cannot. We felt this battle was one we were unlikely to win.
"It would have been easy to issue a statement being critical of the SPFL and of the approach deployed by other clubs – this criticism would have been entirely warranted. But we have to ask ourselves what would it achieve? Will it change the decision? Almost certainly not. It is our view that the only potential remedy would be to take legal action which we are not convinced would be successful and could leave the club with a hefty legal bill at the end. We understand that other clubs have engaged legal counsel on this matter and we do not rule out at this stage supporting their efforts, but it is interesting that Partick Thistle have now decided not to follow that road.
"As a board we have to play a longer game and put our faith in a process of league reconstruction – something which we have long argued for. Some will argue that faith may be misplaced and I would not rush to disagree. We all know that past promises of league construction have come to nothing and our fingers have been burned before. But right now, it is the only game in town and as a club we need to engage constructively rather than hurl accusations and insults from the side-lines.
"The league reconstruction taskforce has been established and I've had discussions with Ann Budge at Hearts and have no doubt she is sincere in her desire to see restructuring take place in time for next season. Les Gray at Hamilton is someone I know less well but I have intimated to both him and Ann that Falkirk FC wants to play an active and engaged role in these talks and the work of the taskforce. We expect to hear in May the outcomes of these talks and we will keep you updated as and when we can before then.
"The situation we find ourselves is not one of our choosing and I know the disappointment that many of you will feel – we feel it too. If the season were to be played to a completion I had no doubt that we would have been promoted as champions - but that, like many other things, has been taken out of our hands by Covid-19.
"There has been much speculation and different permutations of how the remaining fixtures could have been played to a conclusion but I must tell you there was little appetite or agreement from clubs on how that could have been achieved in the current climate. In fact the advice from Government and medical experts is that this was almost impossible to envisage.
"So what remains is to ask for your patience and understanding – again. We didn't want this, you didn't want this but we need to keep our eyes focused on the bigger prize at the end of this process – a potential league restructuring which would not only benefit Falkirk FC but also Scottish football as a whole.
"Finally, we recognise that fans will have many questions on all of the above but more specific queries on preparations for next season, season ticket refunds and a whole lot more. We know many of you feel short-changed, let down and angry and will do our best to put together options that work for you and Falkirk FC. We are putting together plans on how to answer all of your questions and we will come back to you with more information next week.
"In the meantime, stay safe".