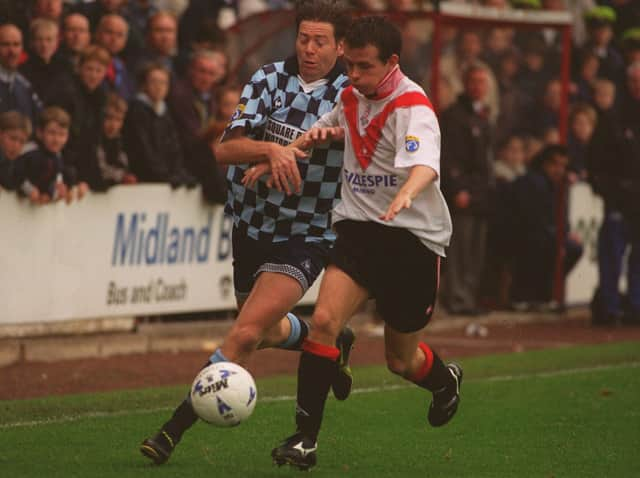 Chris Waddle was a wow signing - but in which year?
IT'S LIFE, JIM BUT…: The experiments at Brighton and Murrayfield had everyone rushing around proclaiming the return of crowds any day now. A few hundred in a stadium that can hold 60,000 tells us nothing apart from providing a dummy run for marshalling arrangements and testing signage. The thought of full stadia, singing, chanting and the like seems a million miles away if the daily problems continue. What happens when part-time players mix with full-timers? The experience of having your temperature checked when attending a recent meeting in the Falkirk Stadium and the inability to have a coffee in the café brought it all home. There is a long way to go before we can get back to normal- whatever that is going to be.
MEMORIES: For years private collectors have squirrelled away prized collections of programmes, cigarette cards, team-sheets, magazines, shirts, scarves, and other items of memorabilia. Collectively they are part of the club's story, not just of games, players, trophies, and the like, but also the role the football club played in the local social, economic, and cultural history of the area. Some clubs have made huge strides in setting up heritage trusts to preserve their collections and Falkirk has taken the first steps to do likewise. Static displays in museums may no longer be the only way of showing off the club's rich history, and the application of that history and heritage for this and subsequent generations is a key development. Digitisation and preservation are important, and as we saw in the last hours of the old Brockville Park, many priceless items can be lost forever.
THE WOW SIGNING: If Messi moves to Manchester City would it be the biggest WOW signing of all time. Who was our WOW signing? Simon Stainrod, Mo Johnston, Chris Waddle, or Russell Latapy? Let us know.
ANSWERS: Last week's picture showed an Airdrie team which included a link to the previous week's picture. In the extreme right of the front row was Gibby Ormond who was in the Falkirk Technical School team we had featured earlier. The Bairns connection was Doug Baillie who was second from the right in the back row.
TEASER: Chris Waddle was a WOW signing, as detailed above, but which year did he sign? There's a clue in the picture.
RUMOURS, GOSSIP AND MORE RUMOURS: It now looks unlikely that Lionel Messi is coming to the club, despite him queuing at Benny T's for his white pudding supper and bottle of Tizer. In the absence of fact, the fans are all over social media with stories of "exclusives" from "someone at the club" about various comings and goings. Some are plain daft, but then you get the occasional piece that just might lead to two and two making four. The news of Alan Gow's appointment as Head of Football Operations came out of nowhere, but at least it will save money having to pay private hospitals and consultants for cartilage operations and scans. Makes sense.