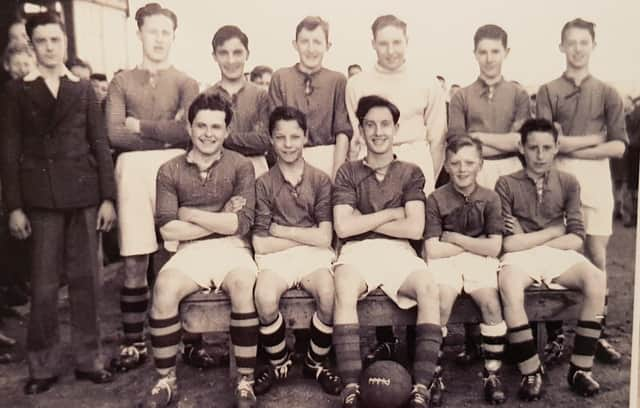 Mystery Picture: What is the Bairns connection here?
SCHOOLBOYS: While attempting to clear the loft, I came across the programme from the famous 5-4 win at Wembley for Scotland Schoolboys in June 1980. While the names of Paul McStay, John Robertson, John Sludden and Ally Dick are familiar, some might struggle to remember the others who were at the time considered the best for their age group.
The line-up that day was: A Bruce (Craigmount High, Edinburgh), E MacDonald (Bellshill Academy), A O'Connor (St Ambrose High, Coatbridge), C Plenderleith (Currie High, Edinburgh), R Coyle (St Gerard's Secondary, Glasgow), P Nicholas (Holyrood Secondary, Glasgow), J Robertson (Portobello High), P McStay (Holycross High, Hamilton) (captain), J Sludden (St Mungo's High, Falkirk), S Rae (Musselburgh Grammar), A Dick (St Modan's High, Stirling).
MYSTERY PICTURE: Can you spot any stars of the future in the picture above?
DAVID HAGEN: What a great turnout of former players and Falkirk supporters to say farewell to Davie Hagen. The cortege passed slowly in front of the stadium and the occasion was a solemn and respectful tribute to an immensely popular player. Everyone had nothing but admiration for Davie's courage and bravery in facing his illness and we will always have these wonderful memories of him as a player, especially of the 1997 cup run. The pictures of Davie in that Scotland Under 16 World Cup Final squad from 1989 showed just what talent he had. He was just a boy at that time but was so highly regarded in the game.
PIECES OF EIGHT: What about that Barcelona result? It was mesmerising to watch, and the shock and disbelief was obvious on the faces of the Catalan giants. Bayern were clinical and ruthless in the extreme. Falkirk supporters know only too well that it is a painful process to endure defeats of such proportions, even if you must admit that the opposition were outstanding. Those who witnessed such horror shows at Tynecastle, Rugby Park, Parkhead and fir Park know how the Barcelona supporters must have felt.
BILLY HUNTER: Senior Bairns were saddened to hear of the death of one of that great Motherwell team - Billy Hunter. Billy was the ambassador for the Football Memories Project and provided valuable one-to-one support for former players who were living with Alzheimer's and memory problems. He always brought a team of former Hearts and Hibs players through to the Senior Bairns Quiz-ball events and guided them through the pictorial rounds. He was a great player in his day and older 'Well fans rated him as one of their best- ever players. His funeral service was extremely moving and had tributes from former team-mates including Bobby Roberts and Davie Gibson. The songs at the service were all sung by Billy himself, and he was a good singer and guitarist. He also wrote books of poetry and contributed greatly to the anthology "Mind the Time" which raised funds for Football Memories. He will be hugely missed.