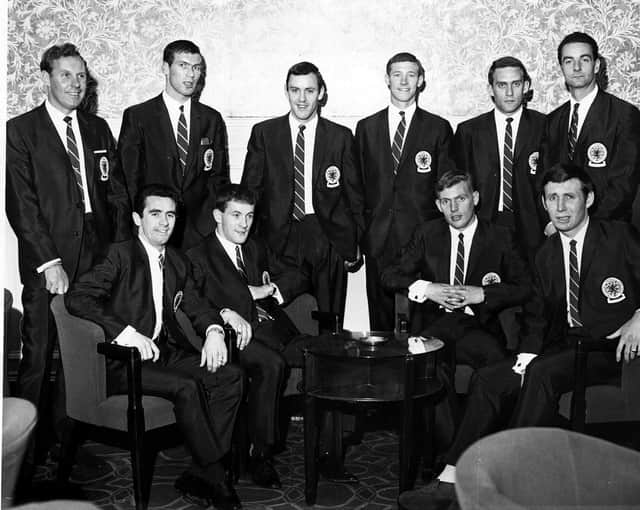 MYSTERY PICTURE: Scotland XI football squad, May 1967. Pictured before world tour.
Winners and Losers: In any organisation, there comes a time when a win is NOT a win. The vote to have an independent investigation into the SPFL fiasco was lost- but 13 clubs voted against the party line.
If the SPFL Board members voted for their own decision and there were two abstentions, that means the "opposition" was not insignificant.
It would be a case for careful consideration of positions in any other walk of life. I was reminded of similar episodes in politics. There was no reason to see this as a "win", and it was a dark day for the game. Surely, this farce cannot be allowed to continue and the governance of the game needs radical overhaul?
MYSTERY PICTURE: Which three played for Falkirk at some time?
HOME ADVANTAGE: If you ask any of the guys who refereed in the 50s and 60s which grounds they feared the most, they wouldn't hesitate with their response- Broomfield and Brockville. Two tight parks with the crowd right on top of you. 
The old stand at Brockville was famous for the Brockville Stand Stamp and it's a wonder the structure withstood the thunderous pounding it took. 
Teams didn't like coming either and there was an obvious home advantage. Kicking towards the Hope Street End in the second half was a delight and some of the happiest moments where those late, late finishes and great comebacks. As someone once said about the last years at the ground- it was a midden, but it was our midden. Home indeed.
ANSWERS: Last week we featured a picture of AndyKerr of Partick Thistle and Johnny Hubbard of Rangers. I had the pleasure of meeting Johnny in his later years and he was quite a character. We were due to launch the 50 th Football Memories group in Erskine Hospital in Bishopton. Johnny was tthe guest of honour. A delightful guy, he showed everyone how to take penalties, which he said he never missed. Bert Slater could prove otherwise, but why spoil a good story.
SELLING A DUMMY: I am wary of writing this in case the club decides to follow suit, but here goes. The latest ploy from the Bundesliga is to charge fans £16.56 to have a cardboard cut-out of themselves placed in a seat in an empty stadium. Add in taped crowd noise and you have something you couldn't have imagined was even dreamt of 12 months ago. 
The frightening thing is that Borussia Monchengladbach have already sold 12,000. What next? Recordings of "We're Blue, We're White." blasting out of the speakers and cardboard cut-outs of Falkirk supporters caught for all eternity in frozen animation?