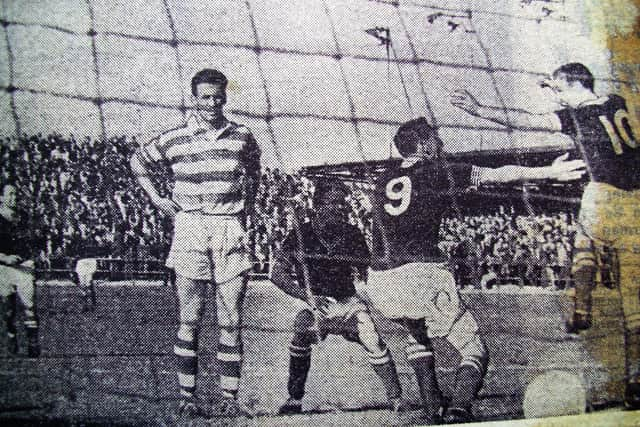 MYSTERY PICTURE: Who is Falkirk's number nine here?
STEADY AS WE GO: The St. Mirren 'outbreak' was a timely warning that Covid-19 hasn't gone away. With the proposed league kick-off only eight days away, it was the last thing that the SPFL chiefs wanted to hear.
MONEY, MONEY, MONEY: The lawyers must be having a field day with all this litigation. You can bet that the cheques heading out from the top floor at Hampden will have plenty of zeros in the amount column. It could all have been avoided with sensible reconstruction of the divisions. Let's hope that the eventual outcome will be a complete restructuring of the entire business of professional football in Scotland and a change of governance and senior personnel. Football supporters have lost faith in those running the game and we are watching a football equivalent of The Emperor's New Clothes.
MYSTERY PICTURE: Who is the Falkirk Number 9?
ANSWERS: Last week's picture was Billy Liddell, the legendary Liverpool and Scotland winger. He was so popular, many older fans referred to the team as "Liddell- pool". He played for his hometown team Dunfermline during the war when he served as a navigator in the R.A.F.
LOWLAND AIMING HIGH: East Kilbride and Kelty Hearts are recruiting from the SPFL and have real ambitions to become league teams. There should be some good games at The Falkirk Stadium when The Shire take them on. It will be a travesty if the pyramid structure is ignored and these teams are denied the rewards their investment and commitment deserve.
TRAINING DAYS: Last week's feature on Alex Duchart showed a training session at Bleachfield. It highlighted the changes in the game since the early 60s. No co-ordinated and branded training gear, no cones and bibs, no indoor facilities, no true surface for small-sided games and not a physio, kitman or coach in sight. The players had to carry the goals from Brockville on occasions. The team was a mixture of full- time and part-time players.
LAST DAY SURPRISES: The sequence of results on the last day of the season always throws up some real shocks. In the English Championship, who could have predicted that Forest would implode at home against Stoke when they had a play-off place withing touching distance? Falkirk have had their fair share of strange results on the last day of the season. Older fans will still have nightmares at results such as Airdrie 11 Falkirk 1 in 1951. Nothing, however, will erase the memory of 1958/59 when Falkirk were relegated because of Dunfermline beating Partick 10-1.