Falkirk FC: Striker Alfredo Agyeman discusses a remarkable life story which has seen him star in Italian football and at five different Scottish clubs
Falkirk striker Alfredo Agyeman has been explaining his eventful life story, which saw the current Bairns star spend the first three years of his life in his native Ghana before moving to Italy and ultimately coming to Scotland as a teenager.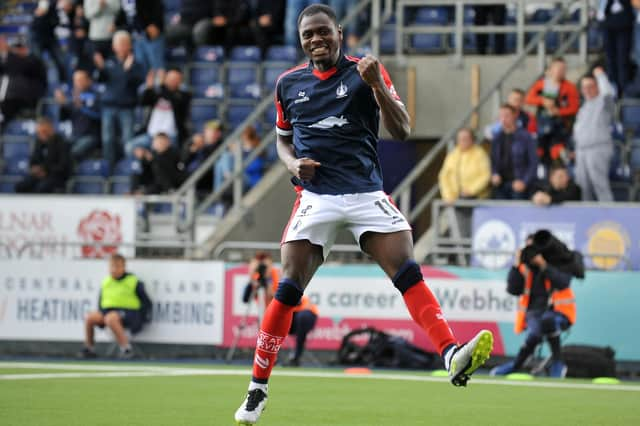 The 23-year-old forward, who joined John McGlynn's team on a three-year contract this summer after leaving Kelty Hearts, told the Falkirk Herald: "I was raised in Ghana then my family moved to Italy when I was three.
"I lived in Italy my whole life, played in the youth Italian leagues as a youngster.
"My parents then decided that the best way to learn for me was to go abroad somewhere else.
"We came to Scotland when I was 14. I played youth football for Motherwell from when I was 18 years old for a couple of years.
"After that I went to Queen's Park for about a year then the club was taken over so they let everybody go.
"I was then at BSC Glasgow (now called Broomhill) for six months and I got to play against Rangers B when Kevin Thomson was the manager for Rangers B team.
"I played quite well in that game, so when Kevin Thomson got the manager's job at Kelty Hearts he decided to let me come in and train with them to see how it goes.
"I ended up signing for Kelty on a two-year deal, won the league and progressed up to League 1 last season.
"A few teams were looking at me but I decided to join Falkirk."
The title-chasing Bairns are currently involved in an enthralling battle at the top of League 1 with rivals Hamilton Accies and Agyeman is relishing the prospect of going head to head with the Lanarkshire side as Falkirk try to at last get promoted to the Championship after five seasons in the third tier.
"It's good that it's an exciting battle between us and Hamilton this season," the striker added.
"We are just trying to win every game that we play and the rest will take care of itself.
"Among the players and the staff, there is great confidence that this season is going to be ours. Even when things are not going well, we find a way to win games.
"I'm enjoying it as we're used to winning. There is so much room for improvement, the squad can even aim for better.
"We just want to get out of League 1 as quick as possible."