Falkirk FC: Manager John McGlynn assesses huge financial importance of Bairns achieving good cup runs
While acknowledging the huge importance of last year's fantastic run to the Scottish Cup semi-finals in generating much-needed revenue from gate receipts, television money and sponsorship, Falkirk FC manager John McGlynn admits that it is unrealistic to expect similar onfield exploits every season to boost the Bairns' coffers.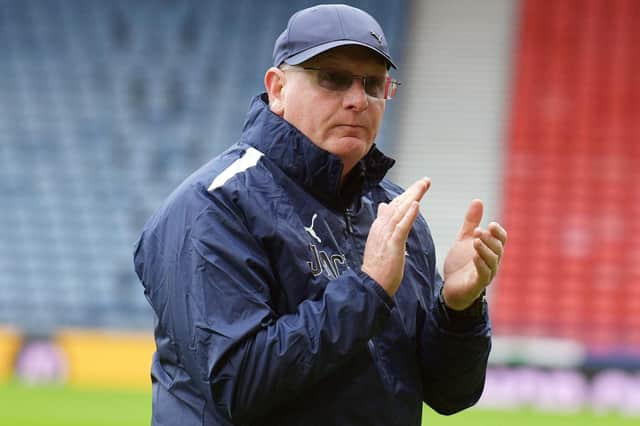 Last week's club AGM highlighted the significant progress made at Falkirk in season 2022/23, when turnover rose by £1.46m from the previous campaign to £2.74m. But the board still stated that it needed to find an extra £400,000 a year for the club to become sustainably successful, with financial constraints meaning that the full-time outfit may even have to drop to part-time status if promotion from League One isn't achieved this season.
"Cup runs are really, really important," gaffer McGlynn, 61, told the Falkirk Herald. "The Scottish Cup brings good finance but you're very much sometimes down to the luck of the draw.
"Some of the teams last year were really unlucky and got a really tough draw away from home.
"We got a little bit fortunate with regards to Darvel who probably upset the apple card by beating Aberdeen.
"Everyone was thinking we had a tie away at Aberdeen but then obviously Darvel put a spanner in the spokes and good for them.
"It meant we had an opportunity which we then took and then we beat Ayr United.
"But we can't rely on that, that's what the board are saying. Every season you're not going to get a cup run.
"We feel we're capable. We'd obviously like draws that are ones we feel we can get through, but we can't guarantee anything.
"I think every team needs cup runs. We all can't get one.
"But even the top two teams in the Premiership, Celtic and Rangers, they probably want to try and bank the money that comes from getting to the latter stages, semi-finals and sharing big attendances in gate money and then winning the cup.
"The prizemoney even for them is significant, so of course it's important for us.
"Last season we had a good taste of it with regards to getting to the semi-finals, we got through the group stages of the league cup, we went a round or two in the Challenge Cup so we did really well.
"We played 50 games last year. You don't want to be playing 50 games if you can help it, because it does have an impact on your season with a little bit of tiredness creeping in."
When asked if he feels the significantly-strengthened current Bairns squad would put up more of a fight than the one seen off 3-0 by Inverness Caledonian Thistle in last season's Scottish Cup semi-final at Hampden on April 29, McGlynn replied: "We feel we're doing better in the league so hopefully that would have a knock-on effect in the Scottish Cup. As I said, it's all about getting favourable draws and then doing your best. But when I get everyone back (from injury) I think we will be a force.
"There's always upsets in the cup so we're very much hopeful that we can do something. When our injured players come back we feel we're strong enough to take on nearly anyone really."
Falkirk are in cup action tomorrow (Saturday), as they host Queen's Park in a fourth round SPFL Trust Trophy match which kicks off at 3pm.