Falkirk co-manager Lee Miller lists his five favourite games as a Bairn
Falkirk co-manager Lee Miller has many fond memories from a stellar two-decade playing career which began and will likely end with the Bairns.
Friday, 5th February 2021, 11:18 am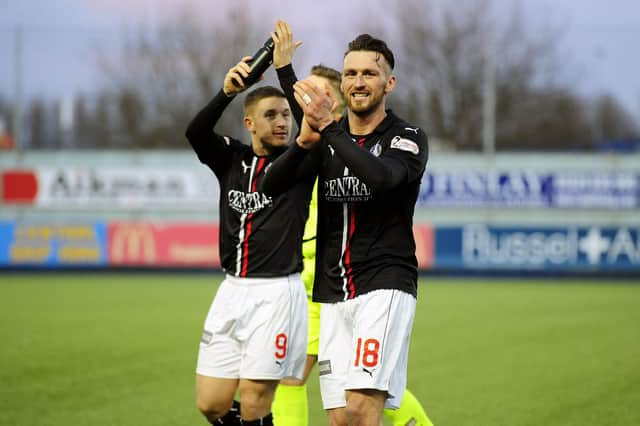 Miller had a great partnerships with a number of strikers during his career but looks back fondly on playing alongside John Baird during his second spell with the Bairns
The 37-year-old, currently out of action due to the ongoing shutdown of football below Championship level, told the Falkirk Herald about his top five favourite matches with the Bairns.
Falkirk 4-2 Ross County, September 29, 2001
"My debut after being a young lad coming through the youth ranks.
Miller "still remembers the sound" of Bob McHugh's goal hitting the post on the way in to beat Hibs 3-2
"I played centre midfield at youth level going box to box, winning headers and scoring goals.
"Alex Totten, through injuries and suspension, needed a striker and, because I was a tall focal point, he asked if I could play up front. I was happy to play anywhere.
"We won 4-2 and I got man of the match, although I didn't score, which I was gutted about.
"I don't remember much about the game but remember being nervous and feeling a bit numb, so I just went out and went for it and do remember hitting the crossbar with an overhead kick.
Miller was nervous ahead of he and David McCracken's first game as managers of the Bairns against Linlithgow Rose in the Scottish Cup
"Alex showed faith in me and I never looked back. He and coaches like Ian McIntyre and Tony Docherty were massive for me in my career at those early stages."
Falkirk 4-0 Hearts, February 13, 2003
"My second season we had Hearts at home in the Scottish Cup and we blew them away 4-0.
"Collin Samuel got the plaudits for a hat-trick but I remember hitting the crossbar with a volley.
Miller in action at Brockville during his first spell with the Bairns
"We were underdogs, but we fancied ourselves against anybody at home, and Ian McCall had us firing on all cylinders.
"It was a great occasion. The fans were incredible that day, and it's a game I always enjoy looking back on.
"During my first spell at Falkirk, I learned so much from the guys I played alongside. My first strike partner was Kevin McAllister and he was incredible for me. He wasn't so much of a communicator but he did his business with the ball.
"I'd come through the youth ranks with Mark Kerr, but he was a bit older than me, so when I made my breakthrough, he took me under his wing.
"Then there's people like John Hughes, Brian Rice, Owe Coyle, Kevin James, Ian McCall – all these proper seasoned pros who were great to work with. We had a great squad who ran away with the league that year."
Falkirk 3-2 Hibs, May 13, 2016
"The play-off win over Hibs was the closest I've seen the Falkirk Stadium's atmosphere to Brockville. It was electric.
"Finishing second and playing two less games made a big difference. We always felt we would get promoted. There was a belief and it was so, but there was maybe just one game too many in the end.
"In the play-off, I was subbed on, there was the long throw and I went up for the first flick to put the defender off and Bob McHugh, on the turn, hooks the volley in.
"I still remember the sound of it hitting the post as it went in and the game was done, and the celebrations after it were incredible.
"We got a bit of stick for celebrating as if we'd won something, but I disagree with that. The fans had been through everything with us and to be able to celebrate that with them was great.
"You have to savour these moments and take them in as they happen, and that one was right up there with the best in my career."
Falkirk 2-0 Dunfermline, February 4, 2017
"John Baird and I both scored that day. He was someone I had a great relationship with on and off the park.
"For the second goal, the ball comes across and Bairdy has a shot that has come off the bar or the keeper. Some angles you think it might be in, but it never was, so I came in and smashed it in. I was away celebrating, but Bairdy was claiming it was his and even chased up the Falkirk TV boys after the game. He was a great player who had a great scoring record for us.
"That was an incredible feeling. The fans love beating Dunfermline and it's such a big thing getting one over on them because it's such a fierce rivalry, and we were right up for that game."
Linlithgow Rose 1-4 Falkirk, November 22, 2019
"It was our first game in charge and I was really nervous. It was a potential banana skin and live on the BBC.
"Looking back and imagining we got beat, things could be very different now.
"We only had a couple of days to prepare the team for that, but we'd done the work on the training pitch and the boys went out and smashed it.
"We did get a scare when they equalised to make it 1-1, but we got the win, having changed the formation. Looking back, it was a risk but one that paid off.
"David McCracken and I had met a few weeks before the match and the fact Falkirk weren't doing well came up, and we said if the job became available we'd go for it, and then it did. It was the right time."
Now 37, the question of hanging his boots up has been posed to Miller, but it's not something he has any immediate plans to do.
He said: "I've been asked a few times, but as long as I am still able to contribute something, I'll keep going because I don't want to ever find myself standing pitchside thinking I could do a job here.
"I still feel fit enough. It does take me a bit longer to recover after games and I can't train every day, but I'll know when the time's right to call it a day and it's not now."