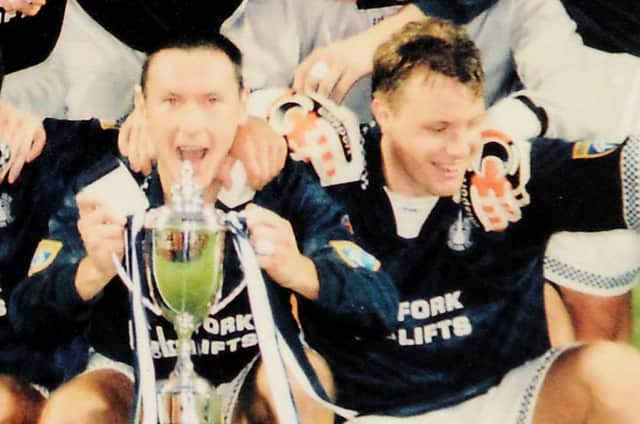 Jamie McGowan (left) lifted the cup after a goal form David Hagen (right)
And his captain remembered a player who was "always smiling" when he looked back on his time shared with Hagen, full of laughs, football – and even pies in Falkirk town centre.
The pair were injured for periods together and bonded in their rehabilitation work, and combined for one of the famous goals in Falkirk history – Paul McGrillen's 1997 Scottish Cup semi-final header against Celtic.
"I remember I was in plenty of space," McGowan told The Falkirk Herald this week. "We were under pressure and I thought, I'll not run another 30 yards with this ball. Luckily I looked up and Hagey was in the same amount of space on the other side of the pitch, so I thought I'd let him deal with it and just launched it towards the back post, because I knew he'd beat the right-back, and I smashed it over. He headed it on and Mowgli got it.
Jamie McGowan lifts the cup at Fir Park after Hagen's winner
"It was a great goal – fitting to win any game. But you know your players - I knew he'd win it all day.
"That's what he did every game. He was as good as Davie Moss in the air. You could pick him out and you'd know he'd get it. He was a good strong player and he'd run all day. He was good for the team which is what we needed.
"In the dressing room he always had a smile on his face and seemed to have not a care in the world.
"He probably did have tribulations in his life, but he never showed it. He came in, got on with it, and was a good laugh. Whether we were out, at training or whatever, he was funny."
Party time for Falkirk at Fir Park
Hagen scored the winner when Falkirk won the League Challenge Cup at Fir Park with a 1-0 victory against Queen of the South in 1998.
"The Challenge Cup final was tough, and we struggled the whole game, but we had players like Crunchie, Davie Moss, Marino Keith and Hagey. We knew we'd have a chance with those players. All we needed was a chance we'd score with those players, and it was Hagey who took the chance. He just needed one chance and he'd score. He was very good, he was very reliable."
Jamie visited his team-mate after his diagnosis with Motor Neurone Disease two years ago.
"I still went to see him and when I did, even though the condition was taking its toll – he was still Hagey. He was a lovely boy, a lovely family and with what happened - it was awful – but we'd still have laughs. He was still Hagey.
Pictured in 2018, Alex Totten wwas David Hagen's manager when the player was at Brockville and in charge when Falkirk won the Challenge Cup
"He introduced me to haggis pies when we were out injured together. We'd do our treatment and rehab work whether it was running or weights or bikes or whatever, but then we'd go for lunch - a cafe along Melville Street. They did haggis pies and they were brilliant! We had some laughs together."
Hagen is remembered by team-mates and managers with a smile, and always having one himself. Steven Pressley remembered an intelligent player with added steel who knew how to win at Rangers, and at Falkirk McGowan remembered a reliable player, and popular team-mate.
"You could tell he had been well coached at Rangers," McGowan went on. "He was an outball for the team - him or Crunchie - Hagey would take people on for fun, and just give you a break if you were under the cosh. You could give them the ball and say have a go, and he would.
"It was a great team. You could trust people. You don't win things if you're not a good team or get close to winning them if you're poor. We were good and on our day we would beat anyone, and we did. It was a team effort and he was a total lynchpin of that team.
"He was always a player you could rely on and was just a lovely boy, honestly."