Falkirk 2-0 East Fife: Quickfire second half double secures win for Bairns
Two goals in five minutes secured a 2-0 win for Falkirk over East Fife at the Falkirk Stadium tonight.
Tuesday, 18th February 2020, 10:07 pm
Updated
Tuesday, 18th February 2020, 10:10 pm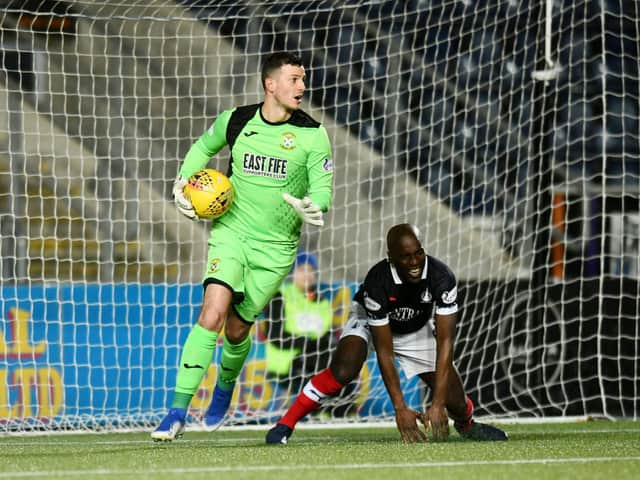 The win takes the Bairns to within one point of league leaders Raith Rovers
Michael Doyle's second goal of the season was followed shortly after by a Declan McManus strike after a fairly even first half contest.
Miller and McCracken made two changes from the side which were beaten by Hearts ten days ago with Louis Longridge and Ben Hall replacing Mark Durnan and Michael Doyle.
It was an inauspicious start for the Bairns as East Fife really should have gone 1-0 up after eight minutes but Kevin Smith, who picked up Pat Slattery's cross at six yards, sent his half volley sailing over the cross bar.
Falkirk had tested Bret Long with some shots from distance early on but their first big chance came on 15 minutes when Aidan Connolly played in Declan McManus with a lovely through ball but Long did well to narrow the angle and block the strikers eventual shot.
Connolly had the next big chance for the Bairns on 27 minutes when his late run in to the box was picked out with a good cross from Michael Doyle but the free header went narrowly wide.
In to the second half and things didn't look like they had improved any until Falkirk had a good chance from a well worked move on 57 minutes which saw McManus break in to the box and square the ball to Longridge at 15 yards but Long made a good save to block his side footed effort.
It was on 72 minutes that the Bairns eventually broke the deadlock as one full back provided for the other with Paul Dixon sending a cross to the back post where Doyle was unmarked and finished well in to the far corner of the net.
It was the one-two combo that floored the Fifers though as five minutes later the Bairns had doubled their advantage.
Declan McManus broke away and from the edge of the box his shot came back off the post then went in off of the helpless Long.
Falkirk came close to a third on 87 minutes when McManus had another shot from a tight angle which Long was able to block but it went over the keeper and landed on the goal-line.
The Bairns fans screamed for the goal to be given but it wasn't and Ross Dunlop came in to clear it away.
The full time whistle came and the win sees Falkirk close the gap on league leaders Raith to just one point.